Before & After: A Derelict Property Gets a Second Chance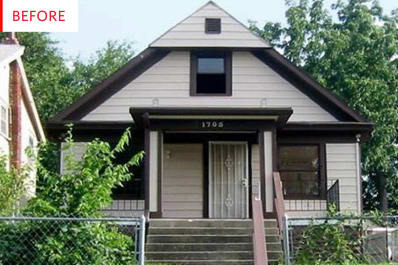 (Image credit: John Zuerlein)
This neglected home was purchased in 2004 and in the intervening years, it's slowly been made over by a loving new owner. Let's see how its exterior has changed and improved over the last 14 years.
(Image credit: John Zuerlein)
This post is really a "Before and After...and After" project, as the home has evolved over time. Here's a full-length shot of the house in 2004, when John originally purchased it:
(Image credit: John Zuerlein)
I had wanted to find a home to renovate, but had a very limited budget. I took a big chance on this house and hoped the neighborhood would improve with time. When I bought it in 2004 it was literally a crack house. It was a known house in the neighborhood where you could get drugs. There was a 6' chain link fence around the perimeter and all of the original interior doors had been kicked in during a drug raid.
It went on the market after a major drug bust occurred there, obviously making it attractively affordable. I worked steadily for two years on the interior and exterior, and made a lot of changes. [My advice is] know your skill set or your ability to learn before taking on anything this large.
Perhaps we can all very nicely ask John to share photos of the interior as well? That sounds like a fascinating renovation.
(Image credit: John Zuerlein)
Here's the house in 2006, with new paint, door, and fence. And tiny baby bushes, of course! I'm glad John was able to keep the darling stone wall—that's a feature you don't see very often, and it adds a lot of beauty. The steps look like they're still in great shape, too, which surely was a relief to John's budget.
Most of the renovations on this house took place over the first two years that I owned it. The real curb appeal transformation came 10 years later when all of the landscaping became fully grown.
(Image credit: John Zuerlein)
Here's the landscaping today, fully grown! I love the clean lines of the boxwood hedges, and they're a modern improvement upon the twisty Alice In Wonderland-like bushes that were against the front porch before.
This house is so sweet and cute. The new door adds a great pop, the new backyard fence is lovely, the new black railing around the porch visually delineates the space (a bit of black is always welcome), and it all comes together so well. Fortunately, John feels the same:
After living in the house for a few years, I moved out and continued to rent it out. It's now on the market, and I'm so happy with the little gem it has become. The thing about landscaping is that you really have to be patient. This is exactly how I envisioned the house when I bought it...but it took 13 years to get it here!
I love the new color scheme and the boxwood hedges. I wouldn't really have done anything differently.
I hope this cute house found a loving new owner!
Thank you, John!