Here's What You Need To Know About The Fabuloso Recall
We
independently
select these products—if you buy from one of our links, we may earn a commission. All prices were accurate at the time of publishing.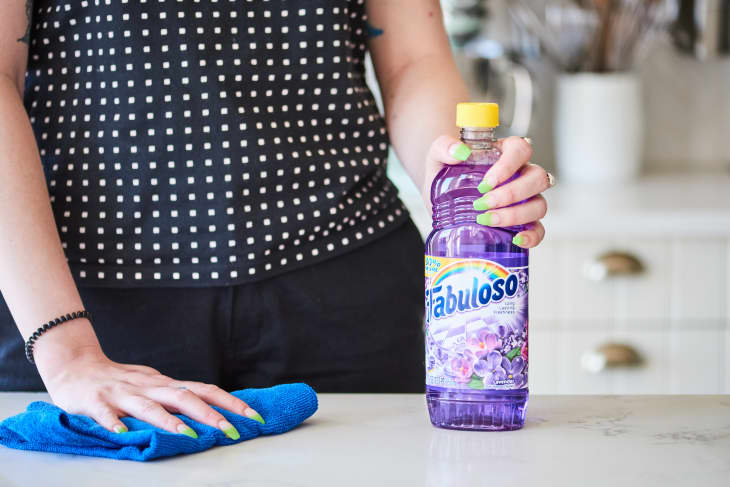 On February 8, roughly 4.9 million bottles of Fabuloso multipurpose cleaners have been voluntarily recalled for potential bacterial contamination. Colgate-Palmolive says that a preservative wasn't correctly added during the manufacturing process, which heightens the chance of bacterial growth. 
According to the Fabuloso website, the cleaners may contain Pseudomonas species bacteria, "including Pseudomonas aeruginosa and Pseudomonas fluorescens, which are environmental organisms found widely in soil and water." This bacteria species can enter the body through inhalation, the eyes, or a break in the skin and cause serious infection that may require medical treatment in people with weakened immune systems, external medical devices, or underlying lung conditions.
Those who have purchased Fabuloso cleaning products made in the U.S. and Canada between December 14, 2022 and January 23, 2023 and have code numbers that start with 2348US78 through 2365US78 and 3001US78 through 3023US78 should stop using the affected cleaning products and contact Colgate-Palmolive for a refund. Do not empty the product down the drain or flush down the toilet. Instead, dispose of the entire bottle in your household trash.
Luckily, most of the potentially contaminated batch (about 3.8 million bottles) was never released for sale.
You can check and compare your Fabuloso bottle to the photos and descriptions over on the Fabuloso recall portal, as well as see which products are not affected by the voluntary recall. For example, Fabuloso Antibacterial (all scents), Fabuloso 2X Citrus & Fruits with Baking Soda, Orange with Baking Soda, or Tropical Spring, and Fabuloso Original Apple with Vinegar are perfectly fine to use.
You can also complete this consumer form to request a refund for your affected product. Your refund should arrive within four to six weeks after completing the form.