This Woman Watered a Fake Succulent for Two Years Because It Looked So Real—And the Story Went Viral
We
independently
select these products—if you buy from one of our links, we may earn a commission. All prices were accurate at the time of publishing.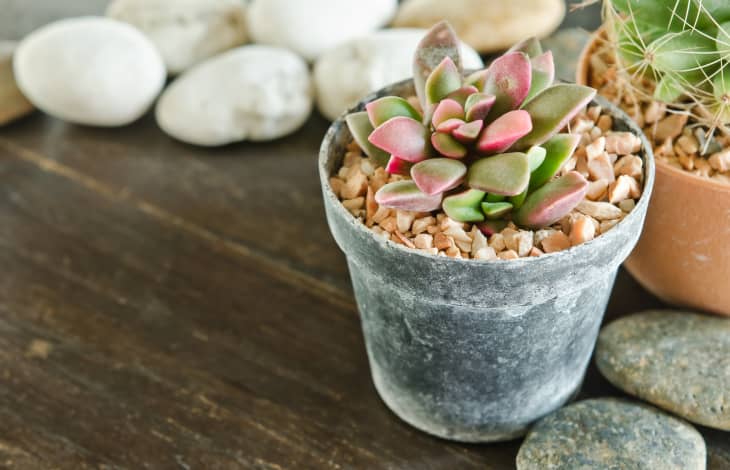 Some fake plants are so good at looking real. Even as I type this at my desk, I'm surrounded by succulents that I have to remind myself are plastic and don't require TLC. A quick glance and you would have no idea—especially since some faux plants come with more realistic soil or are topped with gravel or sand. And that's how one woman came to care for her succulent for two years before discovering it was artificial. 
In a viral Facebook post, Caelie Wilkes shared that she took care of a "full, beautiful coloring, and just an overall beautiful plant" for the past two years. She watered it, washed its leaves, perched it up on her kitchen window, and even got protective when someone else tried to take care of it. But it wasn't until she went to repot her succulent that she noticed it was sitting on styrofoam with sand glued on top, blowing its cover. 
"Today I decided it was time to transplant, I found the cutest vase, that suited it perfectly," Wilkes wrote on Facebook. "I go to pull it from the original plastic container it was purchased with to learn this plant was FAKE." And by the photos that she shared, the succulent did look very real—that is until you look at the base. She ended her note with "I feel like these last two years have been a lie." Dramatic? Yes. Possibly true? Maybe. 
The story started to gain traction over the next few days, so much so that Stephen Colbert featured it in his show Tuesday night as part of his "Meanwhile" segment  where he pulls news headlines and cracks jokes. 
"The world of indoor succulent fanciers was rocked when a devastated woman discovered the plant she had been watering for two years was fake, and just plastic attached to a block of foam and decorated with sand, which was glued on top," Colbert said during his segment. He then joked that "thankfully in these trying times she has the support of her loving husband," panning to a photo of a woman looking at a plastic mannequin. 
A few days after the original post, Wilkes posted an update on Facebook revealing that Home Depot had come to the rescue with sending her multiple real succulents. "Guys Home Depot came through," she wrote. 
A happy ending to the story, I'd say. But I still think she should treat the fake succulent as equal as the others—call me a hopeless plant romantic.