This Interactive Map Reveals Exactly When Fall Foliage Will Peak Near You
We
independently
select these products—if you buy from one of our links, we may earn a commission. All prices were accurate at the time of publishing.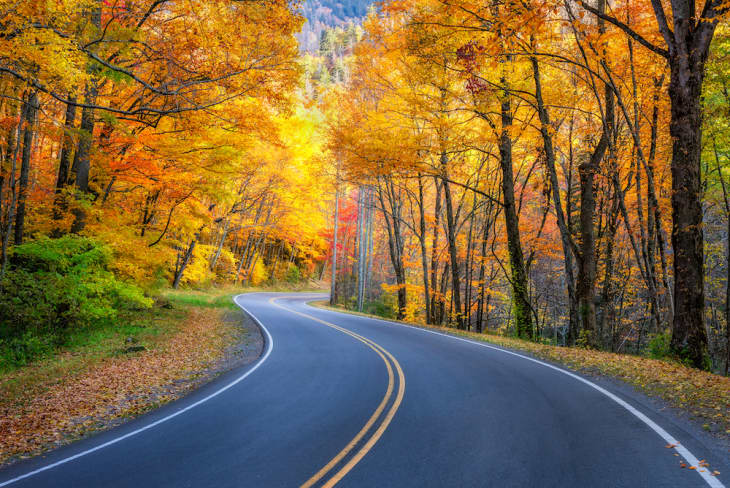 Now that it's almost time to officially time to ring in the fall season, you might be wondering exactly when the optimal time for leaf peeping might be. Each year, the travel pros at SmokyMountains.com unveil their predictive fall foliage map, and this year is no exception. With the interactive map making it easier to determine the perfect time for your annual foliage drive, you'll have the best chances of spotting the autumn leaves in all their glory.
Researchers used a slew of data from National Oceanic and Atmospheric Administration (NOAA), including historical temperatures and precipitation and forecasted temps and precipitation levels, as well as historical and reported leaf peak trends, utilizing the "complex algorithm" to create a county-by-county analysis of the upcoming fall foliage season.
Using the map itself is far less complex — you simply slide by date to see an accurate display of expected foliage. Green indicates unchanged trees, while brown denotes that the leaves are beyond their peak. The vibrant red, orange, and yellow denotes peak foliage, signifying ideal conditions to head to the woods.
The map is so widely used that brand founder and map creator David Angotti told Apartment Therapy in a statement that "tens of millions of people use our map each year to plan vacations, weddings, and photography trips," though most people use it to plan out their good, old-fashioned leaf-peeping adventures.
The latest update for this year is the ability for users to provide real-time leaf reports that will impact both updates and future models, though Angotti notes that like all things meteorological, unexpected weather conditions can change the course of fall foliage.
Still, the map is pretty close to accurate, and it also includes all kinds of fun extras, including the science behind why leaves change color and fall (you can chalk much of that up to chlorophyll and changing temps), what happens to leaves when they fall, family-friendly fall-themed recipes, and a coloring book to enjoy as you prepare to go leaf peeping. Check out the full fall foliage map to get in on all the seasonal fun.