A Family Friendly Queens Co-Op Has Lots of Vintage Furniture and Double Duty Storage Solutions
We
independently
select these products—if you buy from one of our links, we may earn a commission. All prices were accurate at the time of publishing.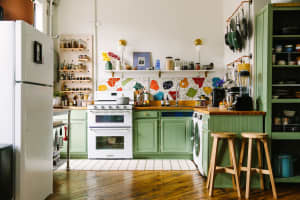 Can't-Miss House Tours Straight to Your Inbox
Keep up with our latest house tours each weekday with our House Tour of the Day newsletter
Name: Rebecca Crea, husband Paul Maklary, and 4-year-old daughter, Rachel
Location: Queens — New York City, New York
Type of home: Co-op apartment
Size: 1100 square feet
Years lived in: 3 years, owned
Tell us a little (or a lot) about your home and the people who live there: Before buying our current place, we were living in a one-bedroom apartment that my husband, Paul, and I had rented for 10 years. We desperately needed more space, but we were determined to take our time to find just the right place for our new family. We were also craving more green space but were reluctant to leave the city. Friends who had recently moved recommended we look into Kew Gardens, knowing that it would check a lot of boxes for us — more green space, affordability, charm, etc. We attended one open house at Hampton Court (our current complex), and it was love at first sight. I didn't want to live anywhere else and started stalking the real estate listings daily.
Hampton Court is this little hidden gem. It's tucked into a corner of Forest Park, so it's surrounded by trees on three sides. The community is a great mix of long-time Queens residents and young families, and they have events in our beautiful courtyard year-round – a holiday party, Halloween parade, Easter egg hunt, BBQs in the summer. We very quickly made friends, got to know so many of our neighbors and knew that we had made the right choice for our family. The apartment itself was one thing, but where it was located was everything.
It's a family home, above all else, and the community is part of what makes that possible. In New York especially, you really need your home to expand outside of the four walls you live within and out to the world around you. The streets you walk down and the people you live next to are all a part of what makes you feel at home.
I'm a mom, a stylist, and a craft-hobbyist. I love knitting, sewing and cooking and have a deep appreciation for things that are handmade or especially well made. Paul is a photographer and we met at work, so we have always loved making beautiful images together. We tried to put that same energy into our home by being very collaborative and deliberate in our choices. Luckily, we share mostly the same taste! We both love mid-century style and sought out many vintage pieces, which were often cheaper than the reproductions being put out by big name retailers. Paul is a surfer and always drawn to the water, so we tried to infuse a little California bohemian style into our textile and color choices — a lot of aqua, gold, and terracotta.
Being a mom influenced all the choices in our home the most, though it might not seem that way on the surface. I chose durable surfaces that will get better as they age, like our leather sofa and marble coffee table. Almost everything does double duty for storage. The credenza under the TV holds board games, Play Doh and art supplies, as well as our napkins and placemats. The sideboard in the dining area is actually a dresser that holds all of Rachel's clothes.
I was never a fan of buying a lot of "baby" or "kid" stuff. Rachel has a Stokke chair, which she's used since she was 6 months old and is still going strong. She eats snacks or colors and does school projects at the coffee table. I keep surfaces and tables clear of clutter so that can be useful to us — not just to hold a pretty vase or stack of books.
The stylist in me wants everything to be beautiful, but the mom in me wants everything to be functional and practical, too.
Describe your home's style in 5 words or less: Family-Friendly, Mid-Century Modern, Minimalist, Bohemian
What is your favorite room and why? Do I have to pick just one?! For me, it's a tie between my daughter's room and our living room. Rachel's room is on the corner and gets the best light. It's painted a peach-y pink and in the afternoon it just glows. I love her little IKEA bed that feels vintage and sometimes, when I'm working from home, I take a break in there. I just lay on the bed and look up at the ceiling or at all her artwork and projects in progress. It's jam packed with personality — just like her! It's also a room where we've made some great small-space storage solutions, which I really love.
The living room has a stunning arched window, which was the number one thing that made me fall in love with this apartment. It gets beautiful late morning light and I love to sit on the couch and watch it move across the walls and the floor. The living room also is the room that has most of my favorite things — the vintage rug, the beautiful leather couch from Article that we invested in when we moved, and artwork made by my husband and my daughter. It's our family space where we play, make art, watch movies, and hang out.
What's the last thing you bought (or found!) for your home? Our turntable! In our last apartment we had a cool, vintage, console-style record player. On the weekends we would pour a cocktail and listen to records. When we moved into this place, we just didn't have room for it, so we sold it. I honestly missed it a lot but the hunt for a turntable that my husband I could both agree on was a long one. I wanted something sleek, he wanted something much more technical. Exposed wires are the bane of my existence, so we were finally able to settle on a bluetooth option. I know some true audiophiles out there will cringe, but it makes us both happy.
Any advice for creating a home you love? Don't be afraid to make mistakes and take risks. Mistakes are how you figure out what you like — by learning what you don't! We once bought a vintage credenza on Craigslist — drove all the way to Bushwick to pick it up, could barely drive the car because it was so big — and when I got it in the living room, I hated it. Instead of sucking it up and keeping it, we kept looking and that massive credenza lived in the middle of our bedroom until we could sell it. I'm so happy we kept looking, though, because the one we have is perfect (and another Craigslist find.)
Also, I believe strongly that anything you bring into your home should be two out of three things: beautiful, meaningful, and functional. Acquiring and cluttering up your home with a bunch of stuff that isn't beautiful (to you) or holds meaning won't bring you any joy. Be thoughtful about the items you bring into your home, whether it is a piece of art or a potholder.
This submission's responses and photos were edited for length/size and clarity.