Here's How a Family of Six Lived Comfortably in a 2.5-Bedroom, 1,009-Square-Foot Condo
We
independently
select these products—if you buy from one of our links, we may earn a commission. All prices were accurate at the time of publishing.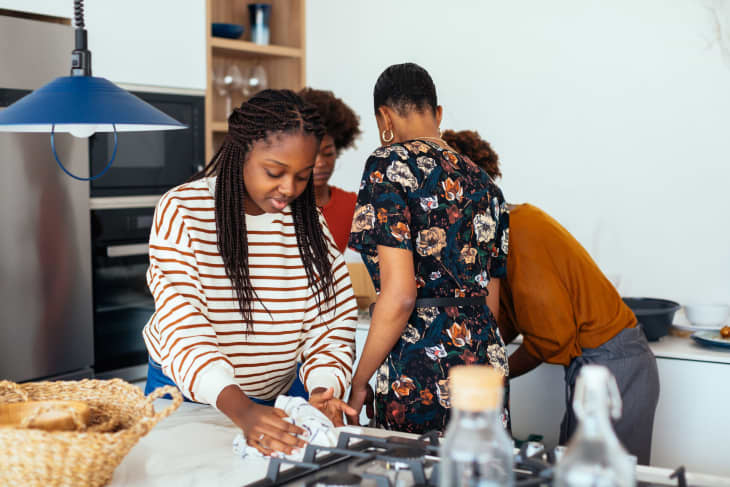 Heidi Wells, owner of home staging company Silk Purse Design Group, knows all about small spaces and how to make the most out of them. Beyond designing them for clients, she's also created a tiny dwelling of her own—for her family of six.
Wells, her husband, and their four children lived in a 1,009-square-foot condo outside of Boston for six years. "I don't know if I'd say it was comfortable," she laughs. The condo counted 2.5 bedrooms, which according to the building's original floor plan, comprised two full bedrooms and a "nursery," or a small room with two windows off of the largest bedroom. Squeezing her family into such a space was a tall order—Wells accomplished the seemingly impossible feat with a few musts: multipurpose furniture, creative storage solutions, and spending lots of time outdoors with the kids.
Why would someone voluntarily downsize so dramatically? Because of her husband's job, Wells and her family needed to live near Boston. They settled on Brookline for the terrific school system, but if you know anything about Boston area real estate, you'll know that Brookline is one of the city's most expensive suburbs.
At the time, they had three children, and while they were living in the condo, they adopted a fourth. During their later years there, they were also actively house-hunting. "Everything in the size and price range we needed just flew off the market," she explains. But Brookline has great parks, and she made sure the kids had plenty of activities to get out of the house when they were going stir-crazy.
Lesson 1: Closets can store more than you think.
Wells and her husband renovated the space to maximize its capacity. They took two closets and made them into one larger one with sliding doors and floor-to-ceiling storage. It even had dry cleaner "racks" that slid out, then tucked away as needed. Each person had their own rack—and they managed to fit everyone's clothes in that single closet. With some of the extra space left over, they made a tiny shoe closet and a mini-office. 
Lesson 2: Make your furniture do double-duty.
The living and dining area had two halves of a reproduction French armoire on either side of the room, one of which was a computer desk that closed up when not in use. They did have a full-size table with six chairs for the dining room, and in the living room, a small sofa with a matching chair, plus a lounge chair with an ottoman. A coffee table would have taken up too much space, so they opted for lighter, more mobile pieces. The living room also had an enormous box for all the kids' toys. 
Lesson 3: Maximize height, always.
All four children slept in built-in bunk or loft beds with storage underneath. The bed in their daughter's room was a toddler-sized trundle bed. "My youngest daughter slept in a drawer," Wells jokes. There were floor-to-ceiling shelves there, too, flush against the wall so as to be unobtrusive, and a library ladder for access. Space was a premium, and sacrifices had to be made, but Wells made sure it didn't look or feel like a hodge-podge.
Now the family lives in a 2,000-square-foot apartment in Brookline. Wells appreciates the bigger space (not to mention having two bathrooms instead of just one!) as her kids have grown, but, she says, "We have such fond memories. We wouldn't go back, but we loved living there." 
Although she can't believe her family made it work for as long as they did, she does believe that they came into, and out of, the condo at the perfect time. A small space doesn't have to be off-limits, so long as you have the right perspective. "It's about what's important to you," she says. Plus, she adds, it's about "embracing the fact that you can't have it all, but having the best version of this small space."