Fate Intervenes to Help a Young Family Find Their Perfect Home
We independently select these products—if you buy from one of our links, we may earn a commission. All prices were accurate at the time of publishing.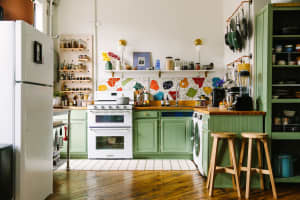 Can't-Miss House Tours Straight to Your Inbox
Keep up with our latest house tours each weekday with our House Tour of the Day newsletter
Name: Verena, Ferdinand and their children Julian and Frederik
Location: Hamburg, Germany
The basics: 2 years, owned – 1,400 square feet
After a streak of bad luck, Verena and her husband decided to wing it and put in a low offer on a home they loved. Not only was their offer accepted, they got some other pretty great news at the same time!
Tell us a little (or a lot) about your home and the people who live there: This apartment came into our lives all of a sudden. There couldn't have been a more perfect storm half a year before: I was struggling with working full-time and taking care of our two-year-old son Julian by myself during the week as my husband Ferdinand was working way across the country. The house I fell in love with, and which we wanted to buy with friends, was suddenly put off the market. Ultimately, Ferdinand lost his job.
Then I saw the real estate advertisement online. Perfect size, perfect amount of rooms, perfect location, fixer-upper – everything we were looking for. But the price was way too high considering the extra money we would have to put into renovation. However, we decided to give it a shot and take a look at it. We made an offer that was ridiculously low and the owner didn't react for almost three weeks, so I gave up the idea of living there.
Then it all happened during a single week in July 2015: on Monday, the owner came back to us and said, the price would be okay. On Wednesday, my pregnancy test was positive. And on Friday my husband had the interview for the company where he now works. Finally the streak of bad luck we had for half a year was over!
We went through renovation in eight weeks, moving into a construction site with a toddler and having no working kitchen and a half-finished bathroom. However, most of the work was done by the time Julian's little brother Frederik was born three months later.
I'm still changing around pieces of furniture, buying new (mostly used) ones through eBay Kleinanzeigen (German Craigslist), getting rid of IKEA pieces, painting, making and putting up art, decorating all the time and also switching rooms.
Our home is a place that is ever-changing and that is one thing I love most about it: its mutability.
What is your favorite room and why? I'd say right now it would be both of the boys' rooms because they are the most versatile ones in our apartment. Julian loves it when I make changes to his room, painting and moving around his bunk bed (which was the exact same one Ferdinand and his brother used to sleep in when they were little) or putting up new art. Frederik's room is the smallest, yet the most modern one. It also works as a guest room when our parents come to visit.
If you could magically change something about your home, what would it be? I would detach a part of Julian's room (making that one a teeny bit smaller), put in the staircase there, combine the three little rooms to put in a bathroom and have what is now the master bathroom as Frederik's new room, so the boys would each have equal sized rooms. I wonder why we didn't come up with that idea before renovation…
What's the last thing you bought (or found!) for your home? I found a mid-century teak highboard through ebay Kleinanzeigen for a bargain, and love how it fits the calm and simple style of the room. I had to promise the former owner to cherish it, as it was her late mother's favorite piece of furniture.
Which fictional character would be most at home in your place? It would probably be Sherlock Holmes because he lived when the house was built (1902) and he would have a lot of work trying to figure out where the mess comes from that somehow nobody has ever made.
Verena's words of wisdom: This is one huge advise my mother gave me: don't buy all the furniture you need and once. You end up buying things you don't want to still have around in five years.