Féline and Ryan's Upper East Side Surf Lodge Style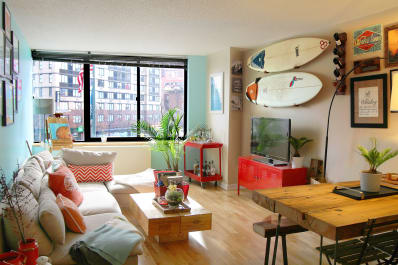 (Image credit: Submitted by Féline & Ryan )
Name: Féline & Ryan
Location: Upper East Side, New York
As soon as we decided to move in together we had a very clear vision of what we wanted our home to look like. We are both insanely crazy about that big vast space which we call the Ocean, everything about it... the salty smell of the wind, the turquoise water, the seashells, the sand, the sound of the surf...It's one of the very first thing that we bonded over (the second is whiskey). Our dream home has always been a cottage on the beach somewhere (some day that dream shall come true) but for now, we're settling for a little surf lodge in the city. It is also what we call our beloved little home.
(Image credit: Submitted by Feline & Ryan)
The apartment is around 750 square feet which is fairly large (for New York standards anyway) and we're very thankful for all the extra space to play around with. We had never owned a full size dining table before so we wanted to make it right this time. It's not just because we actually have all the space for it (such a luxury, again only in New York) but also because we love to entertain, to have our friends over. So the couple pieces that we're most proud of have is the dining table, and the bench you're seeing in the living room. They are both made by Ryan using all reclaimed woods from BIG (Build It Green) New York (our favorite store to shop for pre-owned furniture, and reclaimed woods.)
It took him days to collect woods from different locations, located all the iron legs, and spent his entire Thanksgiving vacation to build it; they were really made with love! He also built the coffee table out of reclaimed wine crates, and that incredibly gorgeous headboard in our bedroom from random pieces of wood. The reclaimed woods of course came from BIG New York, and the paint job was a collaboration which was a fun weekend project. Unfortunately, we didn't romantically splatter paint on each other like in the movies but somehow we still managed to got ourselves covered in paint after. Still, it is extremely fun and lucky to have a live-in handy man. And yes, we're taking custom orders for any reclaimed wood project you have in mind (if you live in NYC).
(Image credit: Submitted by Féline & Ryan )
We wanted to create a space that as soon as you walk inside you feel immediately relaxed, you guessed it, just like that calm feeling you get as soon as you walk on the beach, when your feet touch the sand, or your toes dip in the sea. We think (hope) that we achieved that look/feeling here. The color combinations of course help a lot: Turquoise blue for the ocean, tan for the sand, and red/orange accent for the corral. It helps that Ryan loves to surf so his surfboards instead of being stowed away in the closet play a huge part in decorating the apartment.
There are many of Féline's watercolor paintings of sea creatures throughout the apartment as well; we wish we could include them in our photos to show you (but there's her charcoal drawing of a whiskey quote on top of our dining table). Plus she's a professional seashell hoarder from any beaches she's gone to. Besides the Ocean, New York City is of course our second great love and you can see that through our collection of vintage New York maps hanging on the wall. We're also very lucky to have talented friends who contributed artwork and photographs of our wonderful city to the apartment. At the end, we "get by with a little help from our friends," and our apartment truly feels like a little getaway oasis for all of us in this hustle bustle city.
A little about us: Féline is a Creative Director for a watch design firm in NYC. Ryan is a consultant for a construction firm specializing in Healthcare. We met on a ski trip with mutual friends. After our first date where we both drank whiskey, and then neither of us flinched when Féline ate two separate dinners, at two different restaurants; "WTH" we both thought "that's a hella good start!"
(Image credit: Submitted by Féline & Ryan )
Living room:
Yes, that is a portrait of Bill Murray (aka our Hero!) on the living room wall
The Whiskey quote in Féline's charcoal drawing is from her favorite author: "Whiskey, like a beautiful woman, demands appreciation. You gaze first, then it's time to drink." ― Haruki Murakami
Wooden wine rack is made by Ryan
Couch, TV cabinet, and folded wood dining chairs are from Ikea
Bar cart is a DIY project (from Primer) which only costs $45 because we got the cart from a hardware store
Hawaiian style Wooden pegs for the surfboard are from Amazon
New York City photographs from Allen Enriquez
Arc floor lamp and shade are from World Market
Bedroom:
(Image credit: Submitted by Féline & Ryan )
Thanks, Féline & Ryan !
• Interested in sharing your home with Apartment Therapy? Contact the editors through our House Tour & House Call Submission Form.
Apartment Therapy supports our readers with carefully chosen product recommendations to improve life at home. You support us through our independently chosen links, many of which earn us a commission.