Ficus Audrey is 2020's Answer to Our Fiddle-Leaf Fig Obsession, According to Plant Experts
We independently select these products—if you buy from one of our links, we may earn a commission. All prices were accurate at the time of publishing.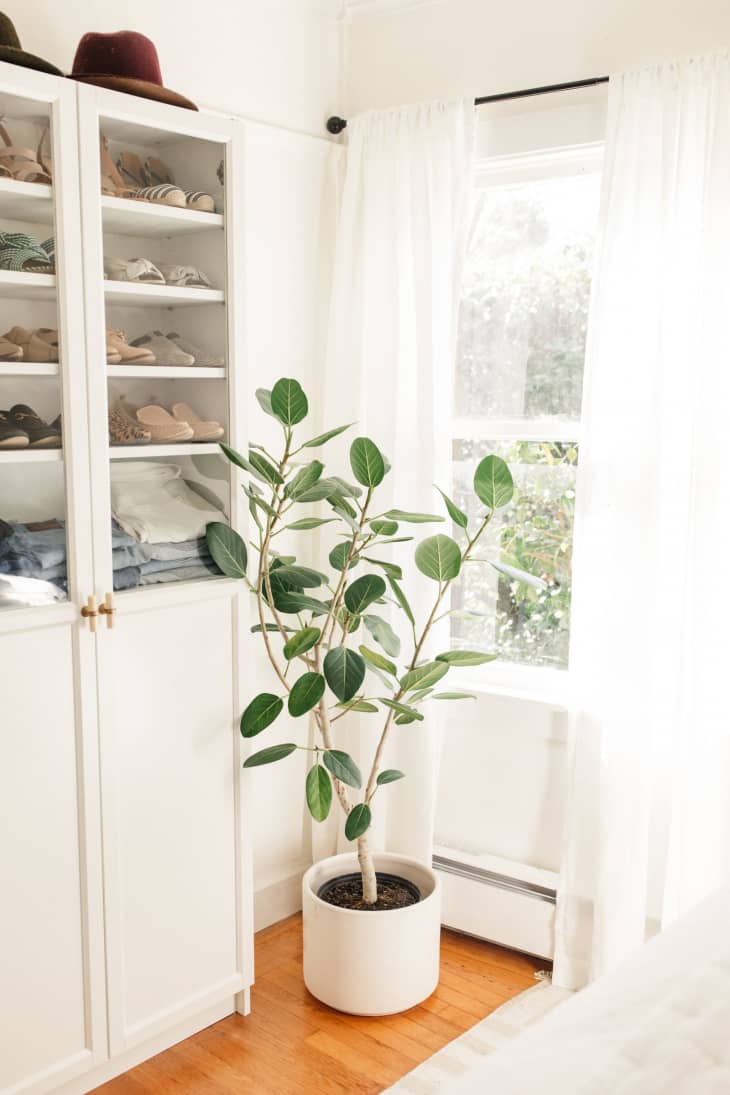 By now, we all know about fiddle-leaf figs—how gorgeous they are, how darn easy they are to kill (we've all been there), and how they're apparently so 2019? That's right, there's a new "it" plant making major waves right now, and it's called the Ficus Audrey.
What's amazing is that these guys are way easier to care for than those precarious fiddles (more on that in a second). And not to mention, they're quite beautiful. Just take a look at blogger Chrissy McDonald's plant, pictured in her bedroom above. Whether you let them grow organically or try to train them into a more classic tree shape, Ficus Audrey are a striking and substantial addition to an empty corner or otherwise. Read on to learn more about our new plant obsession and gather some helpful care tips.
Follow Topics for more like this
Follow for more stories like this
Even if you sometimes struggle fulfilling your plant parent responsibilities, there's still plenty of potential for the Ficus Audrey to thrive in your home. According to Bloomscape's Plant Mom Joyce Mast, "The Ficus Audrey (Ficus benghalensis) is easier to care for than its diva cousin, the Fiddle-Leaf Fig, and more tolerant of inconsistent watering." That's music to our overbooked ears! Ficus Audrey also fares better in lower light situations, which means your home doesn't need to have a zillion windows to make it work with either.
For best results, Mast advises placing the plant in medium to bright indirect light and away from a cold or drafty area of the home. Unlike most humans, the plant does enjoy humidity, and misting is more than welcome. To determine whether your plant is in need of a little more hydration, Mast suggests completing the following "touch test." As she explains, "Push your finger into the soil about 2 to 3 inches deep—if dry, water the plant thoroughly, allowing the water to flow freely from the drainage hole into the saucer." Just be sure there's never standing water in the saucer.
Having trouble sourcing a Ficus Audrey nearby? They're certainly a bit more difficult to find than other more popular plants right now, but you may have better luck searching for one with an alternative name. According to Mast, this green gal may also be known as a Strangler Fig, a Banyan Tree, a Peepal, a Bahupada, or an Indian Banyan Tree.
So the next time you're looking to add a new plant baby to your collection, think big—and lower maintenance—with a Ficus Audrey. I mean, could it have a cuter name? Our guess is this plant will be landing in a home center or nursery near you soon this spring, if it hasn't already.