Here's How I Got a Mortgage (Even Though I Thought I Couldn't)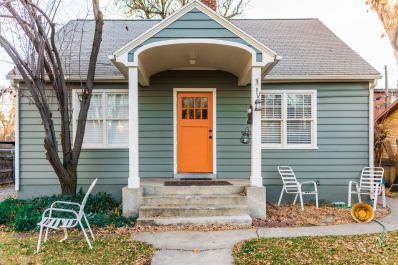 (Image credit: Brett Taylor Photography/Shutterstock)
After my husband and I got married, we quickly started to think about the impending doom/joy (whichever way you want to call it) of "possibly" starting a family sometime in the future. To add to it, we both started to work from home: My project management position had recently gone mobile and my husband worked as a music producer in a home studio. Suddenly the two-bedroom apartment in Philadelphia we'd been renting for about four years (and paid roughly $1,000 per month for, including water and parking), felt oppressively small. We needed more space.
So we met with our real estate agent. The three of us had a very blunt conversation about our needs and wants for a new space. After our agent talked over our rental options, she pulled out an alternative: Homeownership. "A lot of people are afraid of getting a mortgage but I tell them, you're still paying a mortgage when you rent, you're just paying someone else's," she said.
Though she was confident in our ability to get approved for a mortgage, I wasn't so sure. My husband's and my credit was good, but not great, and we didn't have anything near to the infamous 20 percent down payment saved. We had no gifts, or trust funds, or help from distant relatives. However, we did have a little money squared away (my husband's song was in a film and he received a small chunk of change!) I had a 401K with my company that I had contributed to for the last eight years—I figured that in the long run, I could afford borrowing a small dent from it to invest in a home. I'd also recently read about homeownership being the one of the nation's most effective ways to grow net worth. Being in our 30s, it felt like we needed to start making decisions that would benefit us in the future. So we decided to see just what would happen if we set our sights on homeownership.
I had heard of a housing program that claimed to offer no closing costs and no personal mortgage insurance (PMI). PMI rates can vary, but for us it would have tacked on an additional $120 to our monthly payment. The opportunity to do away with it intrigued us. Paperwork in binder, we went in to meet with a counselor.
The first meeting was great. We met with the program's supervisor and she detailed what the loan process would look like. We needed to provide all of our financial documentation, but they would review, help us budget, and determine how much house we could really afford. They also had workshops we could attend to coach us through the home-buying process.
But the second meeting changed everything. We met with another counselor who told us that the so-called "supervisor" hadn't given us proper information. When we went back for our third meeting, we were told our second counselor had quit. We were paired with another counselor, who, of course, had her own set of rules, like not accepting any documentation by email. By our fourth and final meeting we just needed one more paper—a signed Schedule C tax form—before we could finally submit a mortgage application to the underwriters. But at the end of the meeting, we found out that it would be at least a month before the counselor was free to meet with us. We decided to stop wasting our time.
We were frustrated, to say the least. In the beginning, we were told that the program was foolproof—as long as you were prepared. We came more than prepared, but the program was not as professional as we would have hoped. We thought our hopes were dashed. But I decided to reach back to our real estate agent. She gave us some more advice: Try out a regular lender—just to see what would happen. Unsure of what would happen, my husband and I took a preliminary call to discuss the financials.
"Will someone be giving you a gift?" I looked at the phone and laughed a little. The loan officer on the other end of the phone asked again, "Will someone be giving you a gift towards your down payment?"
When my nervous laughter stopped, I squeaked out a "No."
It was uncomfortable and vulnerable to have to share the details of where your money was coming from. I quickly realized the bank wasn't there to judge us for not being rich—they simply wanted to know exactly how risky it was to lend to us and how they could protect their investment in us. When all was said and done, I learned that they were actually pretty eager to lend to us. I was cautious to get a conventional mortgage in our situation, but I was cognizant of how many people got in trouble in the 2008 crisis based on buying homes they could not afford and getting a mortgage with variable interest rates. Thankfully, working with the original counselor, we knew exactly what we could afford and would only accept fixed rate mortgages. We also were committed to not paying more on our mortgage than we were paying in rent.
Over the next couple of days, we began a very intimate relationship with our loan officer. My husband and I ended up telling the bank more about our finances than we ever did each other. Operating separately worked for us, but we realized in this next phase that we truly had to come together financially.
It was all worth it—one week later, we had a pre-approval letter in hand from a conventional lender. We answered a few questions about our employment and expenses, completed an online mortgage application, and we were set to go. Sure, it was going to be Federal Housing Authority loan (FHA) and it was going to have PMI, but it was movement.
Still, we were anxious about what the new numbers would look like. We would now be responsible for closing costs, which meant we needed double the cash upfront than we would have with the previous lender. We buckled down and started saving every dime we could. We thought it was worth it after spending months twiddling our thumbs with a loan counselor. Finally, we were able to actually play in the game instead of watching from the sidelines: We could at last start looking for houses.
We hit the ground running. We marathoned open houses in Philly, visiting four to five each weekend. Instead of talking about finished forms, our days were spent debating whether we wanted a finished basement. Eventually, we found a spacious, brick row home on a quiet one-way street. We put in an offer and it was accepted.
But our quest to homeownership faced another challenge: The home appraised for $20,000 less than the asking price, so we ended up exiting on the contract. Though we were heartbroken to lose the house we thought was the one, it turned out to be a blessing. We ended up finding a new Tudor style row home on a tree lined block in the same neighborhood. The original asking price was out of our budget especially since we'd have to pay a lot of cash up front for the down payment and closing costs. We initially put in a lower offer that they rejected. But I kept my eye on the property and slowly started to see them drop the price. Eventually I knew that we could go back in for the kill—and we did, getting the property for close to the price of that first home we had to say no to! To make the deal even sweeter, our real estate agent connected us to a promotional mortgage product that accepted a 3.5 percent down payment on a conventional mortgage without PMI. We'd also get $1,000 towards our closing costs and our monthly payment would still be close to what we were paying in rent. We ended up putting down $11,000—which meant we still had about $2,000 left in savings to work with for moving and all the other fun new home things.
We closed on our house nine months ago—which meant the whole process took over a year (it felt like an eternity at the time). I learned this is fairly normal. Even though the initial program felt like a time suck, it ultimately helped us prepare for each new lender, create a budget, and ultimately landed us our place to call home.
Every journey is different for sure, so it's important to be open and honest about what will work for you and your family. The idea of saving for a home and getting a lender can seem insurmountable. But I found that we had to step out and get in the game in order to know that we could indeed do it. And I think the path to homeownership is all about learning from your mistakes. I know I did.