This Whimsical Wallpaper Collection Will Make Your Wall Mural Dreams Come True
We
independently
select these products—if you buy from one of our links, we may earn a commission. All prices were accurate at the time of publishing.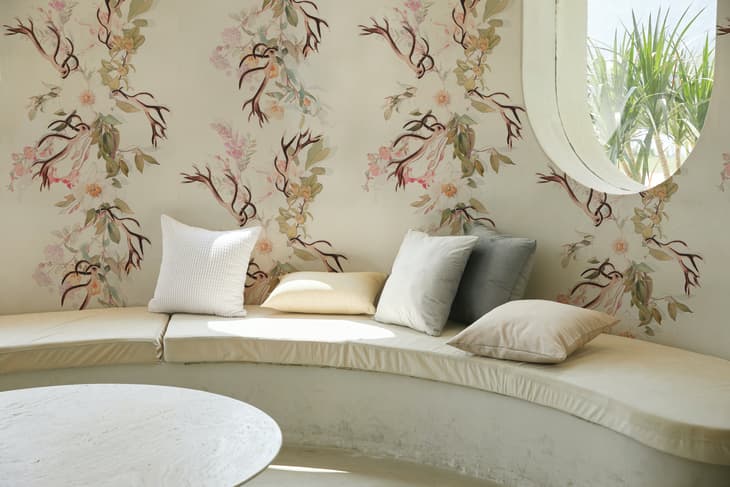 Mural walls are having a moment, making an impact in a big way. From nature scenes to abstract patterns, they're a fun and unique way to make a bold statement in any room. Wallpaper company Fine & Dandy has launched a whimsical collection of mural wallpaper in collaboration with collage artist Loraine Mohar. The Forget Me Not collection embodies all of life's phases and the allure of the natural world through non-traditional floral motifs that symbolize the beauty of decay and the natural processes of birth, generation, and renewal.
The inspiration behind the whole collection, the Forget-Me-Not flower is featured prominently throughout the range, representing devotion and remembrance in the afterlife.
"We're always looking for beauty in the unexpected. We discussed using florals and natural elements that were not in their 'prime' to showcase nature's astonishing process of birth, degeneration, and renewal," said Carla Morano, Co-Founder of Fine & Dandy Co., in a press release announcing the collection. "We wanted to reframe the way people look at conventional ideals and invite them to discover wonder in things that may have previously been overlooked or discarded."
Muted backgrounds allow the eye-catching designs to really take center stage. There's a bright elegance to the Maidenhair – Coronet paper (main photo) which features soft watercolors and pastel tones that offer feelings of calm and optimism, symbolizing growth and restoration. The Ephemera – Ashen paper (pictured above) is dark and daring, the ideal design for those who enjoy gothic interior style.
"I wanted to create an interior floral collection that would inspire, delight, and bestow an aura of calm, while inviting into the home a current of depth, reflection and growth," said artist Loraine Mohar in a press release. "I love playing with opposing forces in all my work—the push and pull between growth and decay is an essential part of the tragic yet perfect dance of life—and this collection was a culmination of that process." 
The Forget Me Not collection consists of five repeating patterns and murals in several colorways. Prices range from $218 (for an 18′ eco-friendly roll) – $2,138 (for a 16x 9′ Atelier mural), and the collection is available to shop now.