10 Apartment Therapy Staffers Share the Piece They Bought for Their First Place — and Still Own
We independently select these products—if you buy from one of our links, we may earn a commission. All prices were accurate at the time of publishing.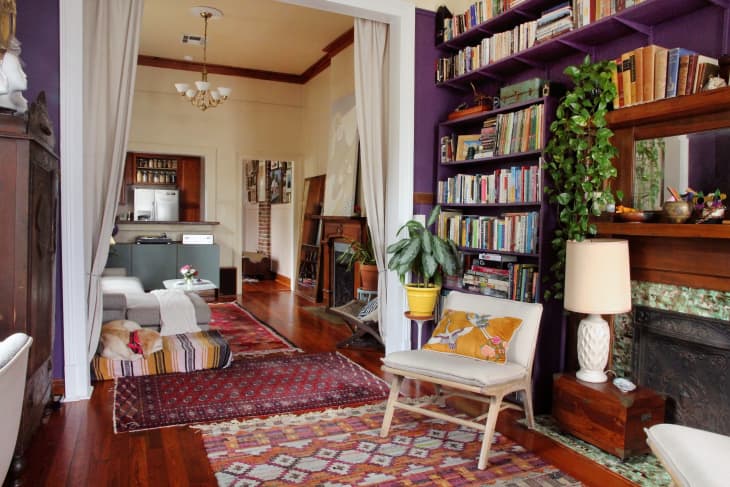 Are you moving into your first-ever apartment and wondering how to even begin to fill it with furniture and decor you love (and won't regret a few months from now)? Make your way through our starter pack. This content was created independently by our editorial team and generously underwritten by the Toyota Corolla Cross.
I can remember my college move-in day clearly. My soon-to-be roommate texted me as my parents and I were pulling up with our carload. "You won't believe how big our room is!" she said. It was true: I had the freshman college dorm only dreams are made of, with three windows, two (!) closets — one of them walk-in (!!) — and plenty of room for my new roomie and me to set up desks, beds (no lofting necessary), and storage. 
Follow Topics for more like this
Follow for more stories like this
I can remember the furniture I had in my dorm room as well. It was mostly our school-issued wood laminate, but I also had room for a royal blue ikat chair and a red-orange rolling cart that I used as a nightstand. (Apparently, bold complements were really my thing, circa 2015.) 
Although my blue and white chair bit the dust after sophomore year, my cart has been with me everywhere I've lived since then, currently serving as a plant stand and bookshelf in my living room. I bought it from Bed Bath & Beyond for about $50 (my splurgiest purchase during college shopping, besides textbooks), and it's been one of my favorite pieces in my space ever since.
It's a little bolder than the rest of my stuff, but I think that's why I like it so much; it's such a fun addition to any room. Not to mention, it comes apart easily, so it's easy to move from apartment to apartment. (I think I've dis- and reassembled it seven times since owning it.) It's also easy to move within an apartment because it comes on wheels.
Sadly, my cart is no longer available. (IKEA does have a three-tier rolling cart that's a good match, though.) But the lesson here is that super-functional, durable furniture that you initially bought in you late teens or early 20s might just last you longer than you think.
Read on for more AT staffers' favorite home items that they still have from college or their early apartment days, plus the practical and stylish ways they use those pieces now.
"The only thing I still have from my first apartment is an IKEA bookshelf," says Home Assistant Editor Savannah West. It continues to work for her because it's so versatile: "I switch up the decor on it all the time, and I move it around all the time," she says.
Entertainment Editor Nicoletta Richardson's Raymour & Flanigan couch from her first apartment is still her couch today. "When we were looking for a couch, we wanted it to last for a while, and it did!" she says. "We've had the couch for, I think, six years."
A Functional Accessories Hanger
Home Projects Director Megan Baker remembers paying $6 to $8 for an IKEA accessories hanger in college, and she continues to use it today. After all, who isn't looking for closet organization hacks?  
This Crate & Barrel bookshelf has been "a chameleon" piece of furniture in Executive Home Director Danielle Blundell's apartments over the years, from when she lived with roommates to her home now. "It holds so many books, and it fills the wall so perfectly," she says. "It's worked in a lot of different applications." 
The Perfect Desk and Lamp Combo
Deputy Lifestyle Director Madeline Bilis has had her green banker's lamp — and the desk it sits on — for a long time. The desk, a sturdy teak Danish modern desk, was a Craigslist find for her first apartment, and she spotted the lamp in the trash in college and rescued it. "I only recently had to change the lightbulb for the first time," she says. 
Managing Editor Terri Pous has had her black IKEA dining table, which she uses as both a desk and table, since living in her first apartment. "It has leaves so it can be big and small, and I can do puzzles on it," she says. "That important to me even in a small apartment."
House Tour Director Adrienne Breaux has had a small, lockable chest since living in her first apartment. At the time, she made it a nightstand. Since then, she's put it on casters and used it as a nesting table, and "now it holds cute little notes as well as witchy stuff," she says.
A Stylish Coffee Table Book
When she first moved to New York, Shopping Editor Blair Donovan bought a coffee table book at The Met, and it's continued to be a staple accessory in her home. "I brought the book with me to all of my apartments," she says.
Special Projects Director Alison Goldman snagged an iridescent, dusty mauve lamp at T.J.Maxx to use as her bedroom lamp in her first apartment. "The nightstand has changed, but the pretty, bright lamp remains!" she says.