9 Things to Buy Right After Moving in to a New Apartment, According to Landlords
We
independently
select these products—if you buy from one of our links, we may earn a commission. All prices were accurate at the time of publishing.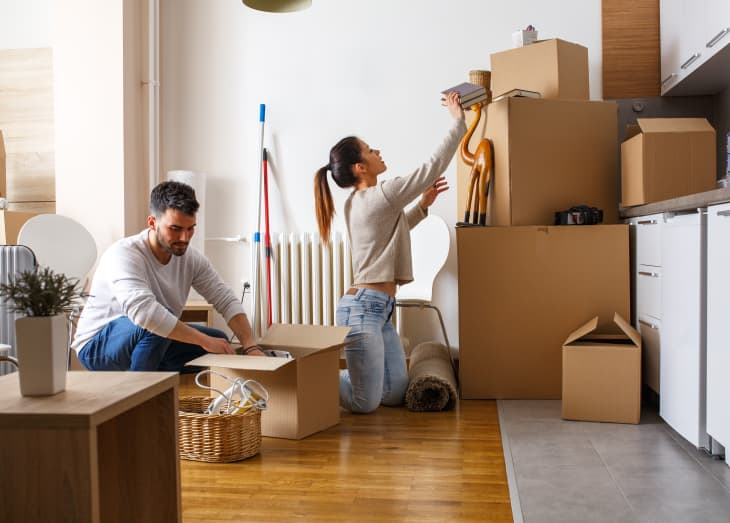 Ah, to start fresh in a new apartment. The savviest movers among us have those "unpack first" boxes ready to go, with essentials like towels, toilet paper, easy-to-reheat meals, and other items for surviving those first 24 hours in a maze of boxes. But what are the first things you should go out and buy for your new digs? We surveyed landlords to find out.
Welcome to your new place! Your upstairs neighbor, from the sound of it, is a tap dancer. Your next door neighbor plays video games all night long. Somehow, someone's car alarm keeps going off. Save your sanity and buy a white noise machine, suggests real estate investor Kendra Barnes, the founder of The Key Resource, a service for beginner landlords and investors. A white noise machine will help drown out any unwanted sounds you might be extra sensitive to during those first few days in your new place. 
Unless your apartment has a shower unit with a built-in sliding glass door, consider buying a shower curtain right away, suggests landlord Andrew Chen, a multi-family real estate investor based in the San Francisco Bay area and founder of Hack Your Wealth, a personal finance site. After a long day of moving boxes, you'll definitely want a shower—and you won't want the extra task of cleaning up splashed water in your new bathroom.
While we're on the topic of curtains, get some for your windows, too, suggests Chen. Many apartments only come with blinds, and they let a lot of external light leak in, he says. Window curtains will allow you to control your light levels, give you more privacy, and, for the bonus round, make your apartment feel more put together.
Waste basket and trash bags
You might be surprised by just how much trash you accumulate in your first couple days of being in a new place. Box wrappings. Plastic packaging. Wet paper towels. Microwave meal boxes. For this reason, Chen suggests having a good trash and recycling system in place right away.
An over-the-toilet storage unit
Apartment bathrooms are often tight and storage is limited, commiserates Emily Jones, a Realtor and new landlord based in Toronto. An over-the-toilet storage unit will bring some immediate organizational bliss so that you're not searching for, say, a makeup brush or Q-tip when you're living out of boxes and trying to get to work on time. Best of all, it's an easy-to-install addition, Jones says.
Buying an area rug is an especially great investment if you have a small or open-concept type of space, Jones says. They're an easy way to make your home reflect your style and can break up a room so that it feels like a multi-functional space, she says. As an added bonus, it will help keep your carpet clean (read: you'll get your deposit back).
These 12″x12″ tiles spruce up an outdoor space, Jones says. "No permanent installation needed," she explains. "Just clip them into each other and lay them on the ground." They're easy to disassemble when your lease runs up.
Even if you aren't a DIY warrior, having a few basic tools on hand is helpful when you're moving. The tool kit will help with all of those moving tasks, like assembling furniture and hanging decor and pictures, says Benjamin Ross, a landlord and real estate agent in the Dallas-Fort Worth, Texas area.
Most apartments just have mirrors in the bathroom. To get the full picture, buy a full-length mirror to fit your space. That way, you're not showing up to work with a dryer sheet attached to a pant leg.