I Live Along the Beach, and This Is Softest, Most Absorbent Turkish Towel I've Ever Used
We independently select these products—if you buy from one of our links, we may earn a commission. All prices were accurate at the time of publishing.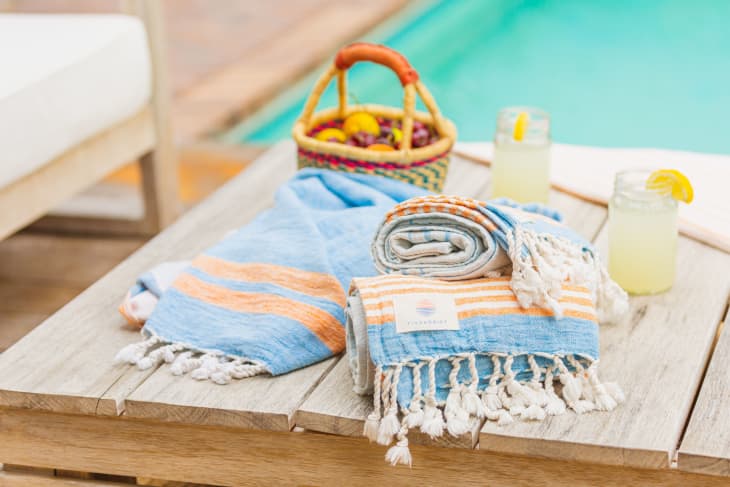 I'll admit, it took me longer than it should have to jump onto the Turkish beach towel bandwagon — especially considering I live at the beach! I didn't see the need to buy anything new when my trusty terrycloth towels worked just fine. Wow, was I wrong! When I finally adopted this new (to me) technology and realized how much lighter, slimmer, and chicer it was, I was a total convert. I have since opened myself to all sorts of towel possibilities, and my latest find is the hands-down frontrunner for my favorite. Every time (literally every time) I pull my FiveADRIFT Beach Towel out of my beach bag, I get tons of oohs and aahs from my friends, and we spend the next few minutes talking about how fabulous it is.
Follow Topics for more like this
Follow for more stories like this
I fell in love with this beauty the moment I laid eyes on it online. With a sun-bleached, beach-inspired color palette, it exudes a laid-back vibe that immediately brings to mind surf spots like San Diego and Hawaii. I went with S. Pacific Ocean Boho Surf — a mix of stripes in rusty orange and aqua blue — but the other three styles are equally easy on the eyes. Ropy tassels on either end give it that extra dash of boho appeal, and it's lightweight enough to throw in your beach bag or even your luggage without the bulk of a terrycloth towel. Yet even with such a slim profile, it's spans a generous 65″ x 36″, so you can spread yourself out on the sand for a nap or wrap it around you when that welcome afternoon sunshower passes through.
And when you do get wet, whether after the rain or a dip in the ocean, you won't stay that way for long. FiveADRIFT's towel is made from HempCORE, a blend of hemp and cotton that absorbs three times as much water as the average towel. I've used towels that claim to get more absorbent with every wash, but this one actually does! Sure, the $49 price tag seemed high at first — especially given that my usual Turkish towels are six for $60 on Amazon — but I love the fact that, unlike most towels on the market, these contain zero microfibers or plastics that will seep into the water and harm the planet. I can also happily confirm that this FiveADRIFT gem is the softest towel I've ever used, and it just gets softer with every wash.
In the past, whether I've used terrycloth or Turkish towels, I've always ended up with a pile of sand at the bottom of the washing machine. It's one of the hazards of spending time at the beach, right? Wrong! The geniuses at FiveADRIFT crafted HempCORE to be sand resistant, so you can leave the beach at the beach where it belongs instead of bringing it home with you. A towel that is kinder to my laundry appliances? Now that's a benefit I didn't expect. ($49 is looking a bit more reasonable, huh?)
I prefer to spend my money on brands that align with my values, which is why I was drawn to FiveADRIFT in the first place. The company donates 100 percent (!!) of its profits to ridding the sea of the 5.25 trillion pieces of plastic that litter it. In fact, each towel purchased equates to 75 plastic bottles being removed from our oceans. ($49? A bargain!)
So get ready for a stylish, sustainably minded summer! Whether you're headed for the beach or the pool — or perhaps a little of both — I have a feeling that this FiveADRIFT Beach Towel is about to become your favorite, too.