See How Seattle Flippers Transformed a Dated Bathroom into a Stylish En Suite
We independently select these products—if you buy from one of our links, we may earn a commission. All prices were accurate at the time of publishing.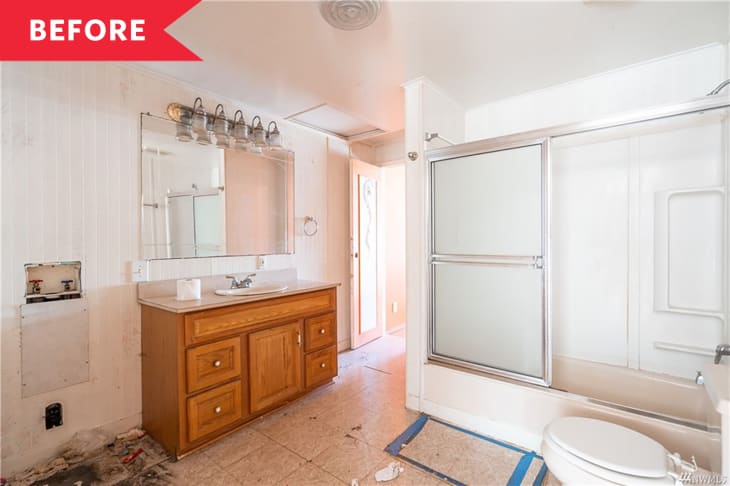 Originally built in 1953, this three-bedroom, two-bath home in Shoreline, Washington, was the definition of dated — both in terms of form and function. Mismatched floors, a closed-in floor plan, and outdated bathrooms were just a few of the issues that Ann Carson, who co-owns Flipping Seattle with her husband, Scott, sought to remedy when flipping the 1,310-square-foot house.
"The home required a complete makeover," she says. "The biggest challenge was the floorplan. The layout was all wrong. It did not have a proper bathroom-to-bedroom situation and lacked a primary suite."
Her goal to open up the floor plan and improve its flow included enlarging the primary bedroom to include a stunning spa-like bathroom. "Since the house was small and very traditional, we needed a wow factor somewhere," Carson says. "The bathroom was a great place to add that feeling of luxury and make the room feel bigger."
As it stood, the space had wallpapered walls, linoleum floors, a single sink on a dated oak vanity, and a combination shower-bathtub. But before she could get to work decking out the bathroom, she needed to create access to the space from within the bedroom instead of from the hallway, thus creating a fully private primary suite.
"We took down walls, created new ones, added new plumbing behind the walls — a very important step in the process," she explains. "It can't just look good on the outside. It needs to be functioning properly on the inside as well."
It wasn't an easy feat. However, once accomplished, this layout change allowed for a "private spa-like bath with all the amenities," she says. There was just one thing: the space wasn't quite large enough to fit a bathtub. "We didn't have room for a five-piece bath — this usually includes a sink, toilet, shower, tub, and vanity — so we opted out of a tub so that we could give new homeowners an eye-catching wall-to-wall shower with dual shower heads," she says. 
The black shower heads and coordinating handles, which play into the room's black-and-white color scheme, face each other on opposite sides of the shower. White subway tiles line the shower walls to give it a timeless look, while an inset shelf is decorated with hexagonal tiles in gray and white hues. 
Outside the shower, designer tile in a graphic black-and-white pattern was used to create interest on the floor, Carson says. Cream paint on the walls — coupled with the bright white subway tile — reflects light to make the room appear brighter and airier.
As far as the vanity, two sinks were "a must," she says, and the team had plenty of room to install a generously sized vanity with ample counter space. Black faucets and hardware coordinate with the three-bulb light fixture above each sink. New doors and "chunky" baseboards finished off the space, Carson explains.
As for the return on the Carsons' investment? They purchased the house for $315,000 in April 2019 and sold it for $635,000 in June 2020. Carson explains that this property took a little longer than normal to flip because the company had other projects running at the same time. The bathroom itself cost about $12,000 to transform. Looking at the finished product, it's likely it was well worth every penny.