The First "Climate Resilient" Floating City Will Be Built Off South Korea
We independently select these products—if you buy from one of our links, we may earn a commission. All prices were accurate at the time of publishing.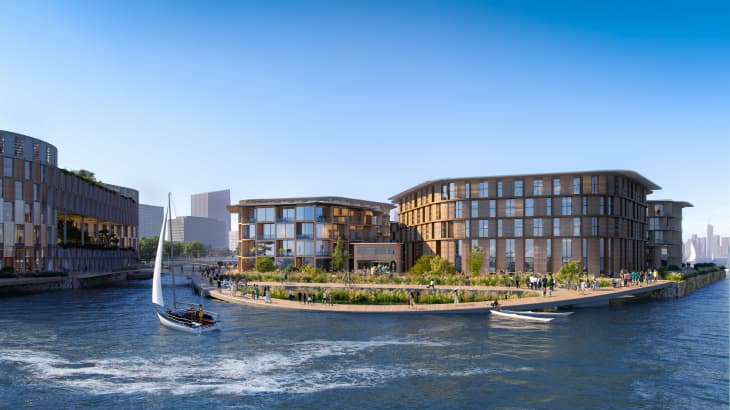 With rising sea levels threatening the longevity of coastal cities and towns, architects are thinking of innovative new ways to combat climate change. Two firms, BIG and Samoo, in partnership with tech company Oceanix, created a concept for the world's first floating city, which is slated to be built off the coast of South Korea.
Follow Topics for more like this
Follow for more stories like this
Oceanix Busan is a "climate-resilient" development headed by UN-Habitat and the Busan Metropolitan City. UN-Habitat hopes that Oceanix Busan will provide a roadmap for other coastal cities that need to take a different approach to live with climate change.
The entire Oceanix Busan development will be built on floating interconnected platforms spanning about 30,000 to 40,000 square meters. The first three platforms will be able to house 12,000 residents, and BIG and Samoo state that there is potential to expand Oceanix Busan to 20 platforms over time. 
The initial plans are that one platform neighborhood will be primarily used for housing (and will include shops and restaurants), another for research, and the final platform will be for housing visitors. Each platform will be connected by link-span bridges and will feature wind-resistant, low-rise buildings.
And each neighborhood will have plenty of outdoor living and recreation space, as well as temperature-controlled greenhouses for growing food. The plan is to have Oceanix Busan create 100 percent of its required operational energy and will be completely zero-waste and net-zero. There is even a plan in place to incorporate coastal habitat regeneration systems.
With the construction of Oceanix Busan scheduled to begin in 2023 in Busan North Port, it's clear that climate-resiliant flloating cities are the future.