How to Force Bulbs So They Bloom Indoors Any Time of Year
We
independently
select these products—if you buy from one of our links, we may earn a commission. All prices were accurate at the time of publishing.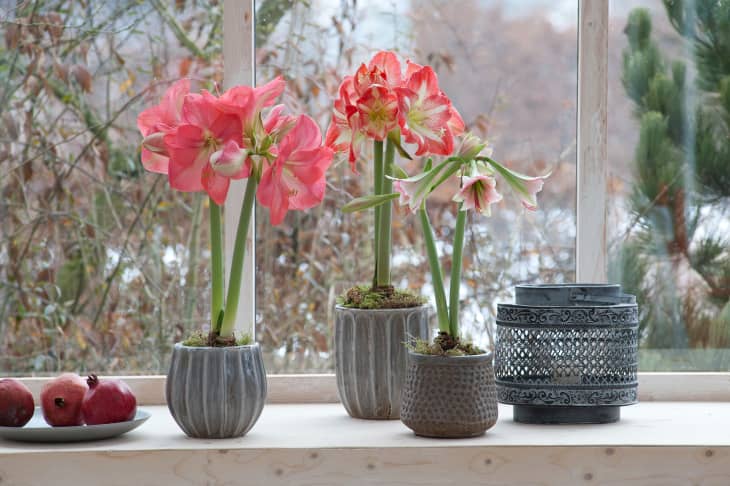 It's finally happened: The thrills of the holidays are over and we have descended into the dark months of winter. You wake up and look out the window only to be greeted by snow or the dead-looking dormancy of January. These are the months when houseplants are especially welcome, helping to minimize the gray, gloomy view out your window. Need to up your game? Forcing bulbs indoors—including the holiday favorite paperwhites—is one of the best ways to bring colorful and cheerful winter blooms into your home.
What does it mean to force bulbs?
"Forcing" is the simple process of making a plant flower in an artificially created environment. Outdoor growth bulbs are planted in the fall in order to winter over for spring blooms; you can bypass months of waiting by urging bulbs to bloom indoors within a matter of weeks. It is a fairly easy process that will have you thinking that you've played a fun trick on Mother Nature herself.
What types of bulbs can you force?
There are many different types of bulbs that you can force, depending on your personal preferences. Some blooms will have a strong scent, while others will barely have one at all. It's best to do your research beforehand if you have a sensitivity to some smells. For example, paperwhites have a very strong scent that is off putting to many people.
Commonly forced bulbs include crocus, paperwhites, amaryllis, daffodils, hyacinth, grape hyacinth, iris, and snowdrops.
Where to source your bulbs
Honestly, this is one of the hardest parts of forcing bulbs. If you order online from an unreliable source, you could end up with product that hasn't been transported or packed properly and therefore temperature-damaged. If you do decide to source your bulbs online, be sure to research multiple outlets and read reviews. Also keep an eye out for "pre-chilled" bulbs; they'll save you even more time, as you won't have to wait as long for blooms.
Another great option for sourcing bulbs is to stick to local plant nurseries. Most garden shops will have a wide selection of pre-chilled bulbs that are ready to force. You'll even be able to find pre-planted bulbs that are already growing in beautiful arrangements, just waiting for you to take them home.
Most common bulbs that are used for forcing need a cool period—which mimics winter—in order to get ready to grow. While they're chilling, the inside of the bulb is a flutter of growth. If you're growing Amaryllis or Paperwhite bulbs you won't have to worry about chilling them, as they're naturally tropical plants and do not need a cold snap. You can plant those and see blooms in 3-8 weeks (Amaryllis will take the most time to bloom). Most other bulbs you will need to source pre-chilled or chill them yourself.
You can chill the bulbs in the vegetable drawer of your refrigerator or an unheated part of your home (like the basement or garage). Keep them away from moisture unless you're planting them in soil, which we will cover later.
The chill time is something like this:

Tulips: 10-15 weeks; blooms 2-3 weeks after planting
Snowdrops: 15 weeks; blooms 2 weeks after planting
Iris: 13-15 weeks; blooms 2-3 week after planting
Crocus: 8-15 weeks; blooms 2-3 weeks after planting
Hyacinth: 12-15 weeks; blooms 2-3 weeks after planting
Grape Hyacinth: 8-14 weeks; blooms 2-3 weeks after planting
Daffodils: 2-3 weeks; blooms 2-3 weeks after planting
Chill now for May blooms—or buy pre-chilled bulbs to get flowers even sooner. Then, this fall, follow our guide:

For January blooms, chill in September. For February blooms, chill in October. For March blooms, chill in November. For April blooms, chill in December.
If you're looking for a mess-free way to force bulbs, this method is for you. All you'll need is a pre-chilled bulbs, pebbles, and a vessel. 
1. Pick your container. You can use a vase or favorite vintage vessel. Many people favor forcing vases because all you need to do is fill the bottom with water and then settled the bulb with in the vase. These take the guesswork out of the process and you'll be able to clearly see if your bulb is sitting in the water (something that can cause the bulb to rot). If you choose to use a forcing vase, skip to number four in our directions.  If you're using a regular vase or vessel, read on to number two.  
2. Layer a few inches of pebbles in the bottom of your vessel.
3. Nestle your pre-chilled bulb tip-up among the pebbles. Press them down gently so that the bulb is secure.
4. Pour water into the container until the water level is just under the bottom of the bulbs. Whatever you do, don't let your bulbs sit in water. They will rot before they even get a chance to bloom. The idea is that the roots will grow down into the water. 
5. Place your vessel away from direct sunlight. Leave it there until the bulbs begin to root. If you're using an opaque container, gently pull on the bulb to see if it gives any resistance. At this point you should be at the two to three week mark. Bulbs like tulips and amaryllis will take a little longer. During this time add water when the level is at less than one inch in the vessel.  
6. Once your bulbs have rooted you can move the vessel to a bright, sunny spot in your home. Still keep an eye on the water level and they will be taking in more water at this time. Once you begin to see the stem shoot up, it won't be long (a week or two) until the bulb blooms.
Forcing in soil is a little more involved that forcing bulbs in just water. You'll need a container, bulbs, potting mix and access to a place to chill the bulbs (unless you're using pre-chilled bulbs or are planting amaryllis or paperwhites).
1. Choose a container for your bulbs.
2. Fill the container with damp potting mix until it is ½ or ¾ full, depending on your preference.
3. Place the bulbs pointy-end up on the surface of the soil. Group the bulbs close together so they are more cloistered.
4. Cover the bulbs until only the points are sticking out of the surface of the soil.
5. If you aren't chilling your bulbs, skip this step. If you are: Place your bulbs in a cool, dark place such as a basement, unheated porch, or garage. Chill them for the required about of time. Keep the soil lightly damp during this time.
6. After the required amount of chilling time, move your bulbs into your home, out of direct sunlight. If you've just planted pre-chilled bulbs or bulbs that don't require a chilling period, move them to a place that is out of the direct sunlight. Leave them there until the bulbs begin to take root. You can check by gently tugging on each bulb to see if it gives resistance. This should take two to three weeks to get to this point after chilling. Only water when the potting mix is dry to the touch. Overwatering will encourage rot.
7. Once your bulbs have rooted, move the container to a sunny spot in your home. Water when the soil becomes dry to the touch. Once the stems begin to emerge from the soil, you should see blooms in two to three weeks.
How to prolong the life of your blooms
Each type of bulb has a different bloom time, which is also dependent on the type of care they receive. You can stretch your bloom life up to roughly 20 days if you give it a solid effort. After your bulbs have begun to flower, move the container out of the direct sun to a cooler place in your home. Direct sun is very hot and will cause the blooms to decay at a more rapid pace.
Don't leave your blooms near any type of heating element, including radiators, fireplaces, space heaters or air vents. It's also a good rule of thumb to keep bulbs away from extreme temperature change, so avoid placing them near doors that open to the outside.
Don't be afraid to trim off dying blooms. Dead blooms pressing against newer ones will decrease the bloom time.
Only water your bulbs when the soil is dry to the touch. Overwatering will promote bulb rot, which is something you cannot see as its happening.
You might find that some of your bulbs have bloomed while others haven't even grown. If this happens, something probably happened before the bulbs even came to you. They were either harvested or stored incorrectly, or they have some kind of rot.
This really varies from person to person. Some people like the process of saving their bulbs and putting them into dormancy in order to start the process all over again the following year. However, it's worth noting that this is a complicated process, and bulbs might not perform as well the second time around. They're also a low-cost investment, so for the time, we'd recommend composting spent bulbs and buying fresh ones for your next growing season. Happy planting!