This Kitten Airbnb Is a Cat Lover's Dream Come True
We independently select these products—if you buy from one of our links, we may earn a commission. All prices were accurate at the time of publishing.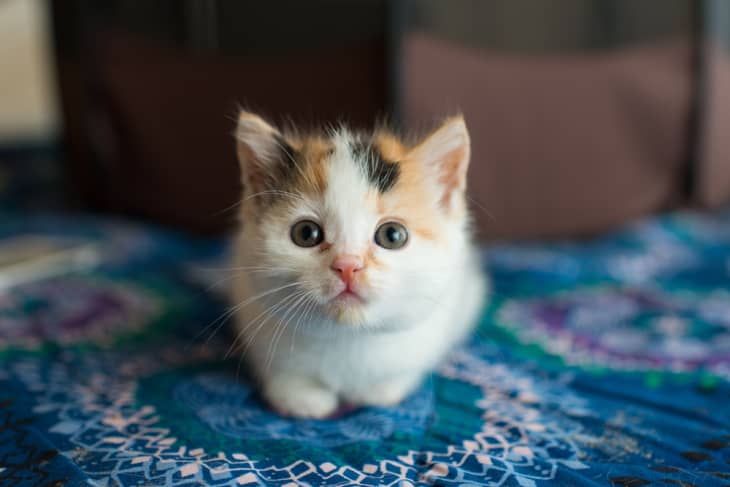 We've seen some niche Airbnb listings in our day. Whether you want to stay overnight in the Oscar Meyer Weinermobile or have a sleepover in a giant potato, you can find pretty much any type of accommodations on the rental site. Now, we've found one that will make cat lovers extremely happy. There's a Kitten Airbnb in Hoboken, New Jersey, and we need to book a stay ASAP.
The Kitten Airbnb, aptly titled "Kitten BnB," is every cat person's dream. You can stay the night in a condo that overlooks the Manhattan skyline with the roommates of your dreams: adorable little kittens. New York City is just a quick train ride away, but why would you want to leave when you're surrounded by kittens?
Kitten Bnb is run by Jess Thoren. She's been fostering since 2016, and in the last three years, she's saved over 100 kittens. Thoren started the @kittenbnb Instagram account to help get her kittens adopted and she quickly grew a huge following. Now, Kitten BnB is a real place where you can eat, sleep, and play with foster kittens. Especially if you're interested in fostering kittens yourself.
"I've found that the scariest part about fostering for most people is starting," Thoren writes on the Kitten BnB website. "If you're interested in fostering, this is a perfect way to see what it's all about and give you the confidence to do it on your own! If you're not interested in fostering, that's okay too (although you might change your mind once you're here!). Come stay with us on your next vacation or work trip. During your stay, you can relax, play with and cuddle our kitten guests while helping to socialize them!"
Don't worry—you won't be responsible for taking care of the kittens. Thoren and her husband will take care of that. But you will have the option to cuddle, play, and take pictures with them in the Kitten Lounge. Kitten BnB has a few different rooms available, so see which one best meets your needs here.