This Is the Most Creative Item I've Ever Framed as Art, and You Can Find Versions of It in Museum Gift Shops or Thrifting
We
independently
select these products—if you buy from one of our links, we may earn a commission. All prices were accurate at the time of publishing.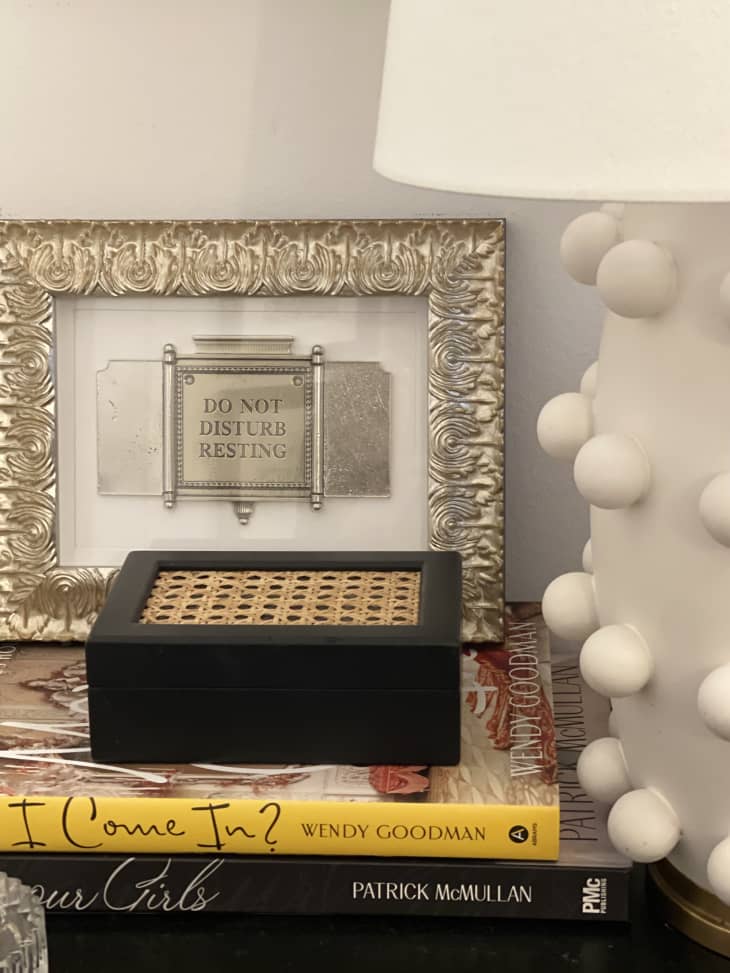 Anyone who knows me knows how much I love good shut-eye. Sleep? Yeah, I need approximately nine hours of it each night. Naps? If there's time for one, count me in. So when I was visiting the Hillwood Estate in Washington, DC, and stumbled upon this quirky metal sign in the gift shop, I felt seen. I knew right away I needed this adorable, accurate, and slightly spunky decoration in my life.
At $68, the sign wasn't exactly cheap, but I felt confident that it would make for a wonderful, worthwhile display piece if I found the right way to showcase it. For context, former Hillwood resident Marjorie Merriweather Post — a businesswoman and socialite who apparently also needed many hours of quality sleep — had a piece like this hanging on her bedroom door, and would open its flaps (which are on simple metal hinges) when she didn't want to anyone to disturb her precious shut-eye. As a renter, I can't exactly drill a metal plaque onto the wall in my own apartment, so I decided that framing the piece would be the best option.
While the flap component of the piece is definitely a cool feature, I was fine framing the piece so that it would sit open at all times; after all, the text is what really spoke to me! I opted to bring it into a local framer who helped me select a fabulous ornate silver border and mounted the piece inside for me. Those who are feeling a little more crafty could easily undertake this project at home or even send your sign off to Framebridge or another online direct to customer framer. The key is selecting a shadowbox type of frame, which will best accommodate the piece's thickness and add some dramatic flair to your setup.
Because the piece has a bit of a glare, I recommend displaying it leaning. Mine is propped up on my nightstand, where it puts a smile on my face every time I crawl into bed. As a lover of historic homes, my hometown of DC, quirky messaging, and yes, SLEEP, this sign really was the perfect accent for my bedroom. Now if only I could somehow flash it in my noisy neighbors' faces to get them to take the hint!