Here's What Frasier's Apartment Would Look Like in 2018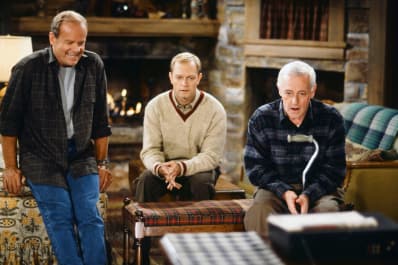 (Image credit: NBC)
If you can even believe it, it's been 25 years since our first taste of tossed salad and scrambled eggs. Frasier debuted on NBC on September 16, 1993, and although we all knew the good Dr. Frasier Crane as a patron where everybody knows your name, we finally got to meet and come to love his Seattle family—we also got our first peek into Frasier's gorgeous apartment (but seriously, that view). The floor to ceiling windows, the refined furniture, and yes, even Martin's beloved duct tape-ridden chair.
The design and decor of his apartment was important to Frasier, so what better way to celebrate this anniversary than by revisiting Frasier's home? E-design site Modsy has once again taken an iconic TV home and given it an upgrade for 2018. This time, we're headed to Seattle.
At the end of Frasier's 11-season run, Dr. Crane takes a job in San Francisco and then flies off to Chicago to win back his great love Charlotte, so who knows where he settled down, but who says he sold his Seattle pad? If Frasier were decorating his apartment in 2018, Modsy's Director of Style, Alessandra Wood believes his style would remain much the same: Frasier was all about "design and craftsmanship over trend" and he opted for "timeless pieces that blended modern minimal with contemporary design," which is what Modsy stuck to for their redesign.
Frasier always filled his apartment with "comfortable, well-made" furniture and he invested "in pieces for functionality and good design," so many elements—like all the woodwork—may look familiar. But Modsy did opt for some 2018 upgrades: The concrete facade of the fireplace has been replaced with high-end terrazzo, just the sort of luxury element both Frasier and Niles would be into. The carpet has been replaced with black marble to give the place some "dramatic elegance," which, let's be honest, is a phrase Frasier would love to have applied to both him and his living space.
As far as furniture goes, which as you may recall was always a point of contention between Frasier and Martin, Modsy kept Frasier's favorite Eames lounge chair, but replaced his old coffee table and gave him a more structural piece from Perigold; It's definitely something different, but Modsy thought it kept the "whimsy" of Frasier's old table in tact.
And finally, to replace Martin's chair—which Frasier finally got rid of in the finale when Martin moved in with his new wife—Modsy thought Dr. Crane might do well with a fancy leather Milo Baughman recliner. Still, I can't help feel like something's missing without any duct tape in the entire place. Change is hard!