This Free Budget Spreadsheet Helped Me Save Hundreds of Dollars a Month
We
independently
select these products—if you buy from one of our links, we may earn a commission. All prices were accurate at the time of publishing.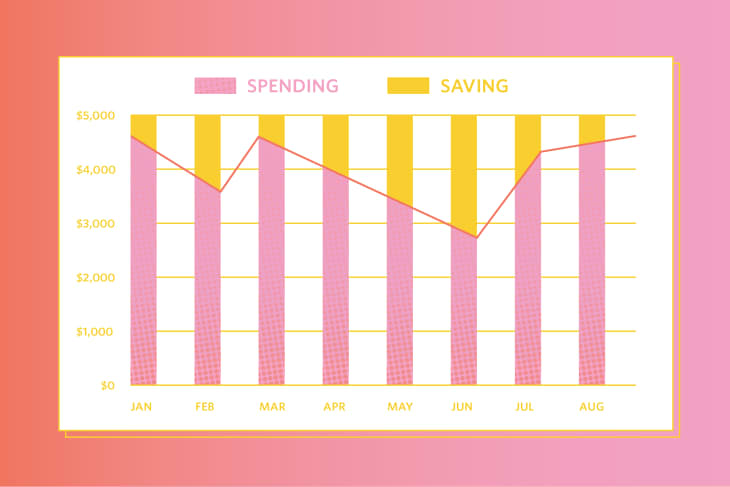 Here's a question for you: Once your paycheck comes in and your bills are paid, do you know how much money you have left over at the end of the month?
Four months ago, I didn't even have a guess as to the amount. I'd been (naively) floating through life without having a clear sense of my budget. And I somehow wasn't freaking out about it — I had enough money to cover rent, my student loan payments were always deducted without an issue, and I never bought so much avocado toast that my numbers were in the red. Why, then, would I need something as scary-sounding as a budget spreadsheet?
I forced myself to take a cold, hard look at my finances when I was considering leaving my four-bedroom sublet and getting my own apartment. I couldn't figure out how much I could realistically afford without crunching the numbers, so I turned to Google Sheets for help. 
I should note that I am a Google Drive evangelist. I organize my life in lists within Google Docs. I keep a log of the books I've read in Google Sheets. I even have all of my photos from the past 10 years stored in Google Photos. So when Google Sheets offered up a blank "Annual budget" spreadsheet template, I decided to give it a shot.
Reader, this extremely simple (and wonderfully free) template changed my life. It helped me take control of my finances in under an hour — and save hundreds of dollars per month.
Listen, I'm sure there are fancier downloadable spreadsheets out there with more sophisticated formulas and color coding. Maybe one day I'll try using them — I love formulas and color-coding! But as a newbie to the world of budgeting, this clear-cut default version is a marvel. 
The way it works is pretty simple: In the expenses tab, you enter in how much money you spend in certain categories, like groceries, utility bills, loan payments, and insurance, per month. (You can customize all of these categories to your liking, of course.) Then, in a separate income tab, you detail your monthly income. The third tab offers a summary of both expenses and income, showing you how much money is flowing in and out of your bank accounts during the year. You can clearly see your net savings per month, as well as how this varies month to month, thanks to a handy bar chart. 
Once I started punching in my expenses and cross-referencing them with my bank statements, I realized I was spending a lot of money on Ubers, bar tabs, and comedy show tickets, among other things. I played around with how much money I might spend in a future month, allowing me to envision life without spending hundreds of dollars on extra stuff. Seeing that red expenses bar go down and my net savings number go up helped me set limits on the amount of money I was spending on entertainment and travel, effectively saving me money. All it took was sitting down for a moment to examine my spending: something I should've done a long time ago. The other thing this little spreadsheet gave me was a clearer picture of how much money I actually have — and how much I can have more of, if I choose to.
The annual budget spreadsheet template is much more helpful than Google Sheets' monthly budget version, in my opinion. (It's the only other budget template Google offers.) The monthly spreadsheet lets you compare and contrast how much you want to spend versus what you *actually* spend, and comes with a tab for inputting daily expenses. The annual budget, meanwhile, gives you a zoomed-out look at how much money you have and where exactly it's going.
To make your own version of the annual budget spreadsheet, head to sheets.google.com, toggle over to the Template Gallery, and scroll down to the one titled "Annual budget." Make a copy for yourself and voilà.