This Instagram Account Shows Where To Find Free Furniture Around NYC
We independently select these products—if you buy from one of our links, we may earn a commission. All prices were accurate at the time of publishing.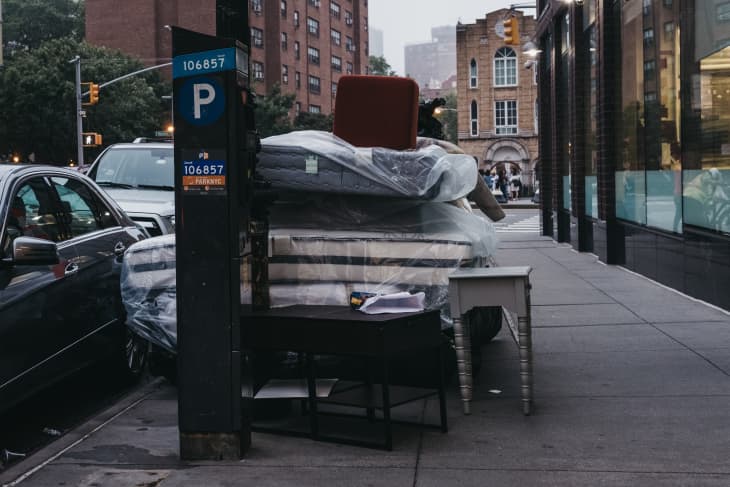 They say that, "One man's trash is another man's treasure." Perhaps no city takes this adage more seriously than New York.
Follow Topics for more like this
Follow for more stories like this
In the months that the Big Apple was under lockdown, people had spent their extra time tidying up and getting rid of unwanted stuff. But with thrift shops and secondhand sellers temporarily shuttered, there were no places to leave these belongings but out on the sidewalk. This has resulted in an uptick of a practice known as stooping, wherein people just abandon their furniture on the curb, and others can take these items home absolutely free.
Stooping NYC is an Instagram account that's making this informal give-and-take economy easier by posting which items are available and where to find them. And true to the adage, the items one can find really are treasures. For instance, there's never a shortage of perfectly fine desks and drawers.
If you're in need of a sofa, they always have one—just be sure to bring a friend to help you carry it.
Strangely, people are also just leaving pianos outside, too.
And then there are some truly random (but exquisite) finds.
According to the volunteers who run Stooping NYC, they receive some 1,000-plus submissions a day. The response is something they didn't expect when they started the account shortly after noticing discarded furniture around their neighborhood.
"We just loved the New York City stooping culture and were always amazed by the incredible things that were left out," they told My Modern Met. "We sort of started the IG account as a fun little thing. We never expected this! We love it though. The community is so fun and so positive."
If you're a New Yorker who's looking to score some new old furniture, here's a tip. "There's lots of great stuff that gets posted on Instagram," said Justin Lucero, who took home a blue loveseat just before other stoopers arrived at the scene, "but you have to be pretty quick."