This Man Is Responsible for the Gardens at NYC's Top Restaurants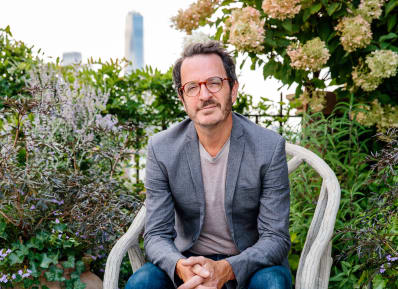 (Image credit: Sean Litchfield)
It was a gray Friday afternoon, but Studio—a café and restaurant tucked inside the recently opened Freehand New York—felt alive. I was sitting across from the person who helped to create that vibe through a surprising vehicle—plants. They filled the corners, shelves, and the area between the tables, bringing each space very much to life. And, it turns out, the man responsible for their being is also behind the plants at a host of New York City's hottest restaurants.
(Image credit: Sean Litchfield)
Thomas Little, founder of Urban Green City Gardens, is like the secret gardener of New York. The list of spaces he's worked on reads like an NYC restaurant junkie's bucket list. The Spotted Pig, Le Coucou, The Dutch, Lafayette, Locanda Verde, Bar Primi, Chelsea Market, The Breslin and The John Dory Oyster Bar (just to name a few), have all been touched by Tommy's "green thumb."
(Image credit: Adrian Gaut)
Freehand, which recently opened in Manhattan's Flatiron District under the Sydell Group, is housed in the former George Washington Hotel—once the stomping grounds of many writers, musicians and creatives. Designed by Roman and Williams, a firm known for their blending of historical elements with a modern reference, the new space has been transformed into a destination in its own right. It currently holds two restaurants (Studio and Simon & the Whale), an inspired cocktail bar (The George Washington Bar), and has a rooftop bar in the works.
(Image credit: Adrian Gaut)
While Freehand's emphasis was mainly on indoor plants, Tommy's previous projects have been focused on exterior gardens. In fact, his experience includes a 10-year stint working with the renowned artist Jeff Koons. And his past body of work includes creating lush landscapes sprouting out of the city's concrete sidewalks.
(Image credit: Sean Litchfield)
Once Freehand was under construction, Roman and Williams founders Robin and Stephan called upon Tommy to work his magic—this time indoors. While his past projects with the firm have been developed strategically, he says this one was a little looser. "There was no game plan here," he says. "The only game plan was for me to ask the people selling me the plants was that they could live in the lowest-light possible."
(Image credit: Adrian Gaut)
The biggest challenge was mastering that personal transition from the outdoors in. "My father was born and raised on a farm. I was raised in the suburbs, but had a big piece of land with a vegetable garden and learned how to grow things." In reference to indoor plants, Tommy says, "we didn't have them in our house."
We'd say he figured it out: The real hallmark of the project is the second floor lobby, which is filled with all types of plants. Apartment Therapy asked Tommy to share the plants he used in the space, where he sourced them and which plants he recommends as easy, low-maintenance options.
Q: Where did you source the plants for this space?
Tommy: I went out to Otto Keil Nursey in Huntington, Long Island. It is a massive network of greenhouses and there is one just for houseplants. I also sourced from David Shannon nursery in Brooklyn. They're the nursery I used for twenty years and they're like family to me now.
Q: Where do you recommend buying plants from in the city?
Tommy: You have to go to 28th St., the flower market, between 6th and 7th Ave. There are about five stores that are plant stores there.
Q: What plant do you recommend to beginners?
Tommy: Tillandsia, or common name air plant. Air plants come from the genus of epiphytes, which is where orchids come from. They live not in soil, but they live suspended in air. Tillandsia are great for beginners because you don't even have to plant it first of all. You don't need a pot with soil, so that's already easy. You can have a bowl of them on your dining table. They're like spiders, they're wild. All you do with it is you take it and dunk it in a bucket of water and let it sit for 10 – 15 minutes, you take it out and put it back where it was.
Q: What was the "biggest risk" plant you put in this space?
Tommy: For this place I would say most definitely, it's in the hallway and it has huge leaves, Strelitzia Nicolai. It looks like a banana tree.
Q: What is one plant you always recommend?
Tommy: Sansevieria trifasciata is a really good plant that everyone should have. Its common name is Mother-in-Law's tongue, which is really fun, because it is shaped like a knife. I mean you should just have it for when you're having a cocktail party so you have something to talk about. It is a really beautiful plant and it can live with virtually no light and can live with virtually no water. It's almost a cactus.
Q: What other advice can you share?
Tommy: Start with hardworking performers and over time introduce more adventurous things. It's no fun if you're not experimenting, but it is very gratifying when your garden is the biggest and healthiest thing come August when you did the most boring thing.
This is a transcript of an interview by Charlotte Parker of Apartment Therapy with Thomas Little. Some of the questions have been edited for brevity and clarity.
Our Readers Also Enjoyed:
New York City's Secret Garden