10 Fun Lawn Games You Didn't Know Existed (Until Now!)
We independently select these products—if you buy from one of our links, we may earn a commission. All prices were accurate at the time of publishing.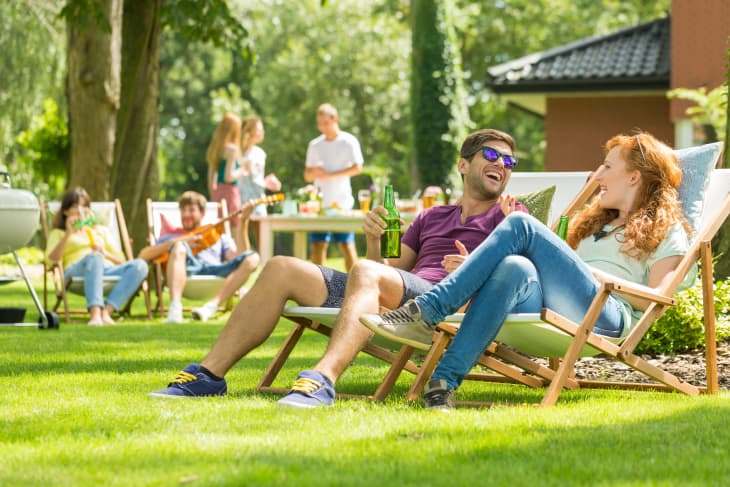 Classic lawn games like corn hole and bocce ball have their time and place, but by midsummer you're looking for something new to surprise and delight the guests at your next outdoor hangout. 
Luckily, the gaming gods delivered this season. There are oversized outdoor takes on old classics, remixes of timeless tailgate games, and a few nostalgic throwbacks that are sure to put a smile on everyone's face. Whether you're keeping careful score to make sure you come out on top or just in it for a summer afternoon of al fresco cocktails and an excuse to be out in the sun, these 10 lawn games are a welcome addition to your usual lineup. 
One of the genres of outdoor lawn games that have caught my attention was the nostalgic game gone supersize. These outdoor 3.5-inch dice are big enough to hold their own on your lawn, on a picnic table, or even on the beach. Plus, the dry erase scoreboard comes with Yahtzee on one side and Farkle on the other, so you can switch up your games depending on the audience (Bunco is another dice favorite!).
Okay, you probably did know this game existed … but you haven't thought about it since the '90s when it was neon pink and green and went by the name "Scatch." Now it's back, still in neon, and marketed under the much more straightforward Velcro Paddle Toss name. You toss a ball back and forth, catching it on your velcro mitt. It couldn't get simpler, yet there's something so satisfying about that ball hitting the velcro.
This is the lawn game mash up you didn't know you needed. I'm not sure whose idea it was to combine a putting green with a beer pong scoring system, but I'm here for it. Each team will take turns gently hitting their ball across the 11.5-foot green, eventually winning by getting a ball in each hole. To make things a bit easier, the holes are covered when a team scores. The best part? You can easily set this up inside if you have the space, which makes it perfect for summer parties when the weather takes a turn but you want to keep the picnic vibes going.
Speaking of beer pong inspired, this large scale interpretation is perfect for your backyard barbecue, beach day, or tailgate. Just as you'd imagine, you throw the balls in the bucket. This particular set gives you a range of balls to choose from, each with a different bounce, roll, and weight. 
This Finnish throwing game combines Scandinavian aesthetics with the excitement of an outdoor game that doesn't necessarily rely on skill but, instead, a decent amount of luck. There are 12 wooden skittles stuck into the ground and one throwing pin. Similar to bowling, you earn points based on how many of the skittles you knock over and they are reset for each turn.
Speaking of bowling, did you know lawn bowling is a thing? Who needs musty old shoes when you can bowl in the great outdoors? Set up this outdoor lawn bowling set and you'll score a strike with all your friends. This game is easy, nostalgic, and so much better when you aren't worried about bumpers or wondering whether your favorite ball will make its way back down the alley.
Another oversized take on an old classic for the win. This is the perfect game when you have kids in attendance — it gives them the satisfaction of kicking a ball but maybe, just maybe, keeps it within a contained area. Kids (and adults!) kick the ball through a course of wickets. If you're feeling competitive, keep score as you would with traditional croquet, aiming to kick the ball through all wickets, or just kick it around freestyle. 
Tetherball is one of those games that sounds vaguely familiar, like it came from gym class in another life, but you're not quite sure how to play it or if you ever have. Here's the rundown. You and an opponent hit the ball, each trying to wrap the ball all the way around the pole, while also trying to stop your opponent from wrapping it in the opposite direction. Once you've set it up, you don't need any other equipment, which makes it perfect for pickup games at a barbecue. 
Most of these lawn games are oversize, but ring toss is one that easily packs up so you can tote it around anywhere. You can be the friend that shows up with a game instead of an appetizer. To play this game, you toss the rope rings onto the board and, if you get it around a peg, you score the corresponding number of points. First to 21 points wins in traditional rules, but you can make it any arbitrary number that feels right!
Gone are the days you had to find a stick or a broom to play limbo. Now you can actually purchase an outdoor limbo lawn game set and see who's up for reliving their childhood. How low can you go?