An Indecisive Person's Trick for Creating a Gallery Wall
We independently select these products—if you buy from one of our links, we may earn a commission. All prices were accurate at the time of publishing.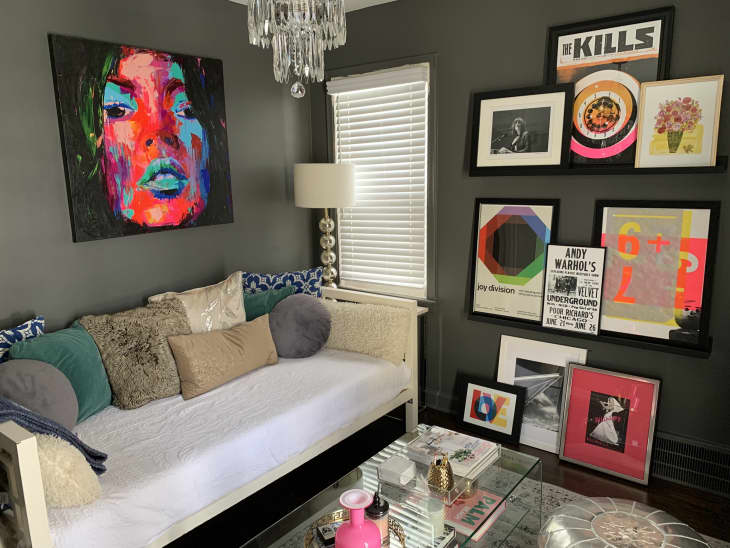 If, like me, you're the type who gets bored of your decor quickly, then putting lots of holes into your walls probably feels scary. That's why traditional gallery walls aren't for everyone; you run the risk of getting tired of a print or wanting to upgrade a frame, which then might call for another round of nails. But what if I told you there's a way to create a non-committal gallery wall, one that allows you to switch up the size, shape, and look of your frames on a whim without worrying about rejiggering your entire wall configuration? No, it doesn't include Command strips. The trick is to utilize gallery shelves or picture ledges.
Follow Topics for more like this
Follow for more stories like this
Whether you want a floor-to-ceiling gallery wall or just a few rows of curated pieces running across a small section of a wall, gallery shelves can do the job. I first came across this idea when I was on a Palm Springs home tour; one couple had put up three wall-spanning gallery shelves and had arranged their massive art on those shelves. Thinner than slab-style floating shelves, gallery shelves really allow the art to take center stage. Essentially shallow ledges that are about four to five inches deep, you can even paint these perches the color of your wall if you want them to blend into their surroundings. 
Before hanging gallery shelves, the biggest factor you need to consider is the height of the art pieces you want to display. Are you the type of person that gravitates towards large scale prints and landscapes, or are you someone who likes to mix-and-match medium-sized pieces with small pictures? Depending on the answer, you need to measure out the space between the shelves to accommodate the frame heights you'll be working with. If you don't want to box yourself in, you can make the bottom and middle rows big enough to accommodate medium-sized frames and the top ledge large enough to fit oversized prints, as seen in the inspiration image above.
If, in the end, you don't ever invest in jumbo-sized art, you can always hang an extra shelf on top to even out that space. You can also use shelves in combination with pictures hanging on the wall, as seen just above here. Obviously, this hybrid arrangement won't be quite as flexible as a full wall of gallery ledges, but you get the idea.
Once you settle on the spacing, you can rotate your art in and out as frequently as you would like without ruining the look (or configuration) of your wall. Again, the most impressive example of a gallery ledge wall I saw was in the The Desert Star apartment complex designed by Howard Lapham in Palm Springs, California. The entire apartment was filled with massive art, and the ledges gave the owners flexibility to keep constantly updating and growing their collection. Gallery shelves are the key to keeping your art display an ever-evolving thing rather than a static collection — no additional nail holes (beyond the initial shelf-mounting) required!