Here's a Cheap, Fun Way to Make Your Window Treatments a Little Funkier
We independently select these products—if you buy from one of our links, we may earn a commission. All prices were accurate at the time of publishing.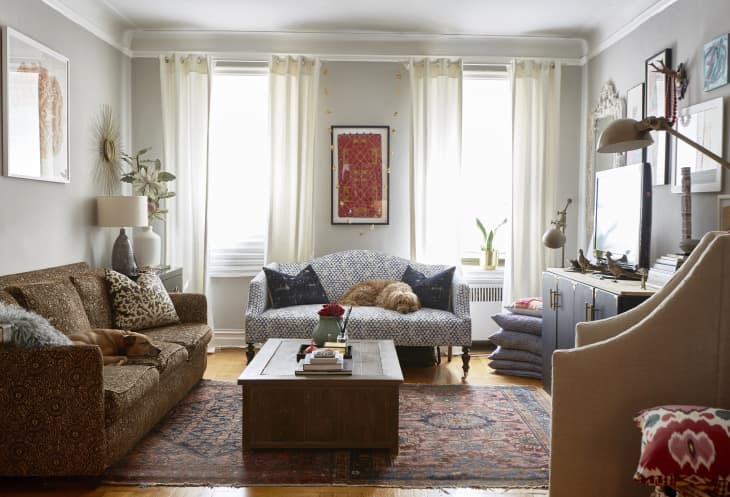 Window treatments are an essential component of any space. As a city dweller whose space overlooks neighboring apartments, investing in a great sets of curtains was obviously one of my top priorities upon moving in. That said, because function was top of mind, I opted for a pretty basic looking set of drapes. They do the job, sure, but are they interesting? Eh. I probably could've put a little more thought into making them a little more decorative. As it turns out though, it isn't too late to do just that — and without breaking the bank!
Follow Topics for more like this
Follow for more stories like this
One way to give plain curtains a little more flavor? Layering a bunting pennant or garland on top of or in between your window treatments. I first saw this trick in a Ballard Design catalog with their sculptural Mystic Ceramic Garland, and it got me thinking about how easy this idea would be to implement. Then I caught sight of the same idea at work in photographer Erin Derby's apartment, only she hung a golden star garland in between her window treatments rather than right on top of them. The way it drapes over her art here — and works with the colors in the piece — definitely spices up her solid color curtains.
You sometimes see people introduce these types of flourishes to their spaces during the holidays, but I'm talking more about a year-round solution. All you have to do is pick out a garland that speaks to you and then tie it to the ends of your curtain rod or rods. You could even hang one of these over a set of French doors. Whatever hanging configuration you choose, just be sure to keep the garland on the loose side so you can still open and close your curtains easily. You could even layer two garlands together; in that case, I'd probably choose something beaded and pair that with something tasseled for contrast in shape, size, and texture.
Stylistically speaking though, the garland options are limited. You can choose something a little more sophisticated with ceramic beads, like the Ballard garland I mentioned above, or opt for something felted, colorful, and more whimsical, as shown below.
In particular, this rainbow one from Crate & Barrel is under $30 and will certainly pack a punch in a kid's room or even just a colorful living room. You could also DIY something similar if you're crafty with pom-poms.
Willing to make more of an investment? I can't get enough of this floral number from Anthropologie, which is sure to make even the most cookie cutter of apartment bedrooms feel like something out of a fairytale.
If you ever tire of displaying your garland on the windows (though I don't think you will!), you can incorporate this kind of piece in many other areas of your home. You can always hang one above a headboard, wrap it around a mirror, or use a glue gun to adhere it to a lampshade. If you want to think outside the box for your window treatments even more, you could try string lights in this spot, too, just as this Chicago renter did. The possibilities are endless!