7 Essential, Space-Saving Tools for Small Kitchens, According to Experts
We independently select these products—if you buy from one of our links, we may earn a commission. All prices were accurate at the time of publishing.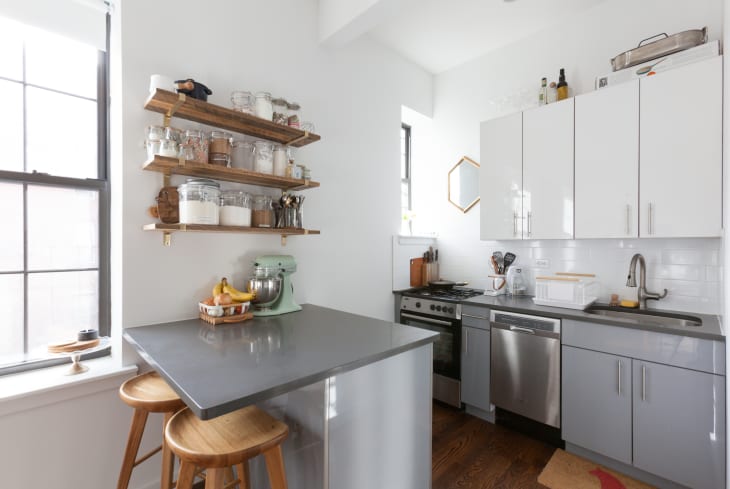 Outfitting a tiny kitchen is no easy feat. Along with carving out plenty of room for food prep, you're tasked with finding the space to store all of your go-to kitchen tools. "Prioritizing what lives on your countertops and in your cabinets can be a real headache," says food blogger and small-space-savvy chef Britt Shoffner of Avid Snacker. "These zones are prime real estate in a small kitchen, so you have to be strategic about how you organize them."
Fortunately, with a little digging and imagination, you can uncover a whole assortment of small-space-friendly kitchen staples that work just as hard as their full-sized counterparts, but only take up a fraction of the storage space. "It pays to think outside the box and creatively about items that can be used to store, display, or contain kitchen items in a tasteful, organized way that is also aesthetically pleasing," says professional organizer and home stylist Malaika Lubega of Huza Home Concepts. "Whether it's a multifunctional utensil, tiered organizer, or a compact version of a bigger appliance, there are so many amazing items on the market today that allow you to organize a small kitchen in a way that makes everything accessible."
Curious to learn what kinds of gadgets can work wonders in a cramped kitchen? From collapsible measuring cups to extendable over-the-sink-drying racks and more, here are seven essential tools for small kitchens that chefs and professional organizers say will free up so much countertop and cabinet space.