The One Thing You Need to Write a Great Thank-You Note
We
independently
select these products—if you buy from one of our links, we may earn a commission. All prices were accurate at the time of publishing.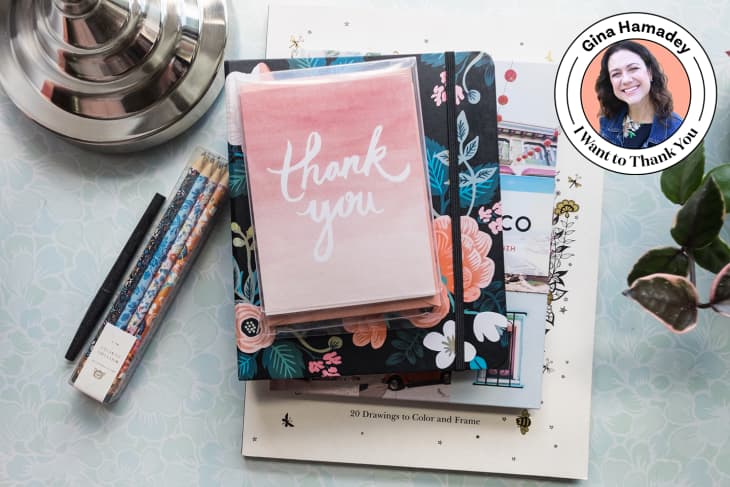 Happy Place is a brand-new editorial series dedicated to helping you live your happiest, healthiest life at home. Every week for 4 months, we're sharing quick, doable, and not-at-all-preachy tips that wellness pros, home decor experts, and Apartment Therapy editors actually use (really!). Sign up now to get 16 weeks of actionable advice in your inbox.
Happy Place is created independently by our editorial team and generously underwritten by Yogi® Tea.
Studies show that the act of being thankful can make you happier, a finding that feels especially relevant this week, Thanksgiving week. One study in particular, by Dr. Martin Seligman, a psychologist at the University of Pennsylvania, found that writing letters of gratitude had a tremendous impact on happiness, with effects lasting up to a month after the fact.
Gina Hamadey, author of "I Want to Thank You," a book about her year of writing a thank-you note every day, knows this from personal experience. "Expressing gratitude regularly retrains your brain to focus on what's good in your life instead of what's missing," she tells Apartment Therapy. "Even on days when there is no time for yoga or journaling or creative writing or any other type of self-care because of all the tasks I have to do for my work and for my two small boys, gratitude helps me focus on what is good and what is working, instead of all the things I didn't have time to do that day."
If the thought of writing thank-you notes gives you instant writer's block, you're not alone. "People get caught up in their bad handwriting, or their less-than-poetic language, or their lack of gorgeous stationery," says Hamadey. But, she adds, none of that actually matters.
Read on (and listen in) to find out Gina's best advice for writing thank-you notes that will make you and the recipient feel amazing.
No time to read? Listen to highlights from our conversation with Gina instead.
Think About What You're Grateful For
The real key to writing a great thank-you note, according to Hamadey, is expressing gratitude in an openhearted way. And the way to do that is to think — really think! — about what is you're grateful for. "Sit and think about the recipient for a few focused minutes, about what they did or said that made a difference," says Hamadey.
Don't feel like you need to go on and on. In fact, Hamadey suggests focusing on just one thing. Then write it down simply and clearly. And that's it. "Oftentimes, three or four sentences does the trick."
Writing even one short gratitude note is a guaranteed mood lifter — so why not write a dozen and see how it feels? In order to keep the practice manageable, Hamadey suggests choosing themes. "For my Thank You Year, I chose 12 topics including friends, neighbors, family, mentors, healthcare workers, parenting helpers, and some obscure topics like food and travel." But she advises starting with three or four topics and then listing out a few people that come to mind.
Set Yourself Up for Success
We know we said you don't need fancy stationery — and you don't! You also don't need a dedicated writing desk (although it doesn't hurt if you do). But, it's nice to keep everything organized and in one place.
"I have a leather folder from Poketo (similar to this one) where I keep stamps, cards, a pen, and a notebook with a list of potential gratitude note recipients. I keep it nearby, and try to turn to it instead of my phone when I have a few free minutes."
Ready to find your happy place? Sign up for the newsletter!