The "Glass Onion" Compound Is Now Available On Zillow…Or Is It?
We
independently
select these products—if you buy from one of our links, we may earn a commission. All prices were accurate at the time of publishing.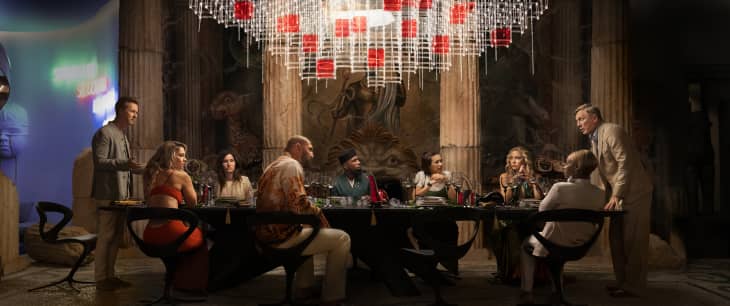 "Glass Onion: A Knives Out Mystery" is officially available to stream on Netflix, gifting viewers with another twisty Benoit Blanc (Daniel Craig) mystery. The sequel to 2019's "Knives Out" swaps a chilly Massachusetts mansion for a lavish Greek island commune, where fictional billionaire Miles Bron (Edward Norton) has invited his eclectic group of friends to partake in a murder mystery party… only for the drama to ricochet when someone actually turns up dead.
Bron's "Glass Onion" home only reinforces how extravagantly out of touch the tech mogul is with ordinary society — just look at the giant, Beatles-inspired glass onion or the Joseph Gordon Levitt-voiced "dong" sounds that ring out every hour, and you'll see what I mean.
While the lavish space fits perfectly with the "Knives Out" franchise's class critiques, it's an undeniably beautiful destination… and one that's supposedly on the market right now. That's right — the compound is listed on Zillow right now for $450,000,000. The catch? It's not real.
According to the listing, the "Glass Onion Greek Isle Commune" is "the perfect retreat for groups of friends, families and enemies alike." It goes on to spotlight some of the property's eccentric features, as seen in the movie: seven studio villas inspired by different chakras, as well as a "massive dining area perfect for hosting the most elaborate of murder mystery parties." Visitors also get breathtaking views of the Aegean Sea, not the Ionian Sea (as Bron falsely says in the movie).
Despite the listing's winking nods to "Glass Onion" itself, more than a few internet users actually fell for Netflix's creative marketing gambit once it was posted on the Facebook real estate page "Zillow Gone Wild." 
"This house is insane and obscene and I'm going to need someone to buy it for me. K thanks," one user commented, while another added: "Now I want to see the movie just to see more of this house!"
However, plenty of Facebook users quickly keyed into what Netflix was doing and applauded the streamer for its creative advertising.
But yet another commenter brought up an excellent point: "If Daniel Craig and Janelle Monáe are not included (as part-time guests) I'm not interested."
Fair! You may be wondering: where was "Glass Onion" actually filmed? IRL, most of the film was shot by the Amanzoe, a luxury hotel near Porto Heli, Greece. Now there's your next murder mystery party destination.