This Editor-Favorite Nonstick Sheet Pan Is Now Available in a Juicy New Color (and It's Likely to Sell Out)
We independently select these products—if you buy from one of our links, we may earn a commission. All prices were accurate at the time of publishing.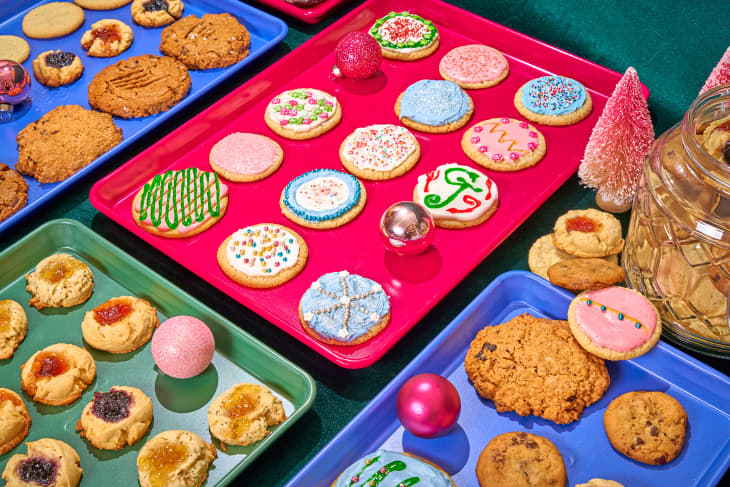 The Great Jones Holy Sheet rimmed baking pan is an editor favorite here at Kitchn for many reasons. First, it's got a great name (we can never resist a pun). Second, it comes in two sizes for truly efficient cooking. It's definitely one of the best quality sheet pans we've ever used. Finally, we love the colors. We thought they couldn't get any better, but Great Jones' latest hue is more gorgeous than we could even imagine. 
When the pan originally launched in 2019, we mooned over the deep and rich Blueberry — it shook up the sheet pan landscape as we knew it! Once they introduced a dark green called Broccoli, we knew we'd never go back to our boring old gray pans again. But the company's newest sheet pan color truly takes the cake (or, um, cookies): It's Raspberry!
Great Jones' Raspberry is bright and luscious, like the fruit crumble of our dreams, and it's made with the same high-quality aluminized steel as the rest of their sheet pans. We've put this pan through the ringer in our own kitchens, and we can definitely report that the steel rods and thick rolled edges can stand up to high heat. You can't warp these pans if you try. Unlike other baking pans, these are coated with ceramic, a naturally nonstick material for stress-free baking.
Raspberry is available now: You can snag your own in Great Jones' original Holy Sheet (that's standard size for $40), or their wildly useful Little Sheets (the Holy Sheet in miniature; perfect for reheating leftovers in the oven, and sold at 2 for $45). But their Sheet Show — heh, heh — deal is where it's at. For $85, you'll get a Holy Sheet and TWO Little Sheets, in whatever color you fancy.