If Green Cleaners Aren't Cutting It, You Might Need a Cleaning "Re-Set"
We independently select these products—if you buy from one of our links, we may earn a commission. All prices were accurate at the time of publishing.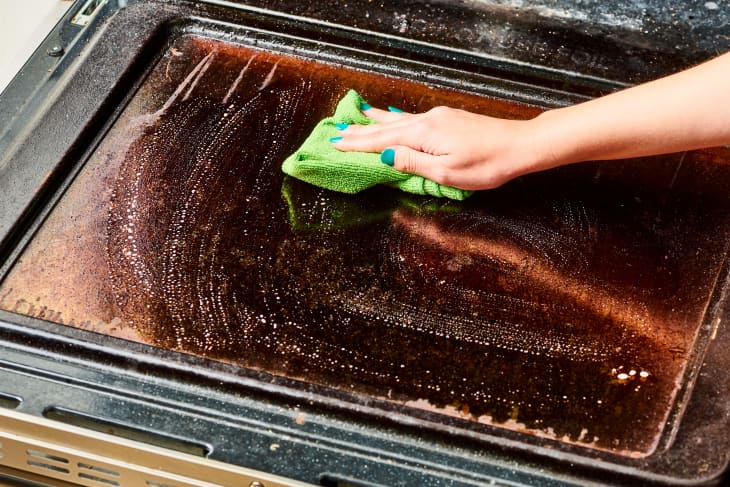 From here, as I grew into my home-keeping style, I experimented with simple, multi-purpose cleaning supplies like the old standbys of white vinegar, baking soda, and Dawn dish soap. I dabbled in DIY cleaners, including making all-purpose cleaner from citrus peels and making my own laundry and dishwasher pods. I even cloth diapered through my third kid.
Now, fifteen years into keeping my own home, I've given up on certain "green" cleaning methods entirely. I became a convert to commercial Stainless Steel Cleaner when I saw the mirror-like gleam on my friend's fridge. Homemade detergent of any kind is also a thing of the past; I don't have time or energy to make them and, honestly, they didn't work that well for me. In many cases, the choice is for efficacy. For instance, I can and sometimes still do use a mist of oil to polish our stainless steel appliances.
But I definitely have some old green standbys that retain a place in my cleaning arsenal. I still sprinkle baking soda in our bathroom sinks to scour them and follow up with a vinegar rinse. Alvin Corn remains my favorite glass cleaner and I still mix it up myself. And my go-to for cleaning soap scum off our glass shower enclosures is vinegar in a spray bottle followed by Dawn Powerwash.
So I feel like I straddle two worlds, the natural cleaning world and the "chemical" one, and it serves my household well. My personal philosophy is to use the simplest products unless there's a reason to use something more manufactured or specific. (Sometimes this reason is because I like the smell of something else!)
But even in the areas that routinely get the natural treatment, there's a time and a place for the big guns. In fact, being open to whipping out the stronger stuff allows me to use more gentle products for maintenance. I call this practice "re-setting" and it's how I reconcile my cleaning identities, if there's such a thing, ha!
Here are some examples of how I re-set at home so I can use gentler methods for routine cleaning:
Using Easy Off in the oven when the baked-on mess has gotten really bad. This way, I don't come away from a cleaning session discouraged that baking soda and vinegar don't work. Instead, I address a major mess by using products made to make a tough job easier (by safely following the instructions and warnings on the label) and then promise myself I'll be better about wiping messes when they're fresh and cleaning the oven more frequently.
Using Mr. Clean on really tough dirt and grime. If I'm short on time or tackling a particularly grime-y mess, I'll spray full-strength Mr. Clean, let it sit for a few minutes, and then wipe away. It really does melt tough messes and makes them easy to wipe away with one swipe of a rag or paper towel. One place I always use Mr. Clean is dirty window tracks. Saturating the black stuff with Mr. Clean and then soaking up the mess with paper towels is the best way I've found to make this thankless chore manageable.
Using bleach for shower grout. For years, I thought that our grout and caulk were impossible to clean. I even replaced some of the caulk because I'd given up on it. But then I tried bleach and Tide and Kaboom with bleach, choices that weren't even on my radar before, and they eliminated all my mildew trouble spots.
While I still endeavor to choose mild cleaners that are gentle enough for my kids to use, I'm also a bit more humble about using harsher cleaners when the situation calls for. It pays, as always, to be open to trying new things.