I Tried These $5 Hand Soap Sheets and Now I Don't Leave Home Without Them
We independently select these products—if you buy from one of our links, we may earn a commission. All prices were accurate at the time of publishing.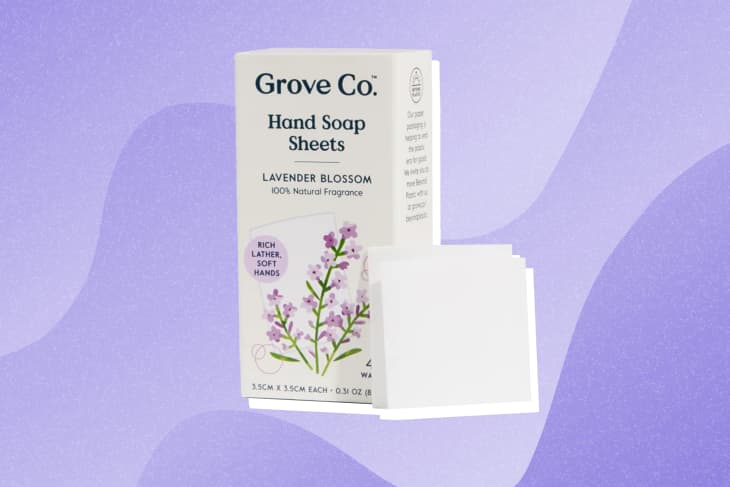 When I'm traveling or on the go, using public restrooms is always a hit or miss situation. On road trips and between airports, it's pretty much inevitable that I'll have to go at least once. But the situation doesn't just entail going to the bathroom — I'm also thinking about how crowded the bathroom might be, how clean it is, and how to ensure I can get out as quickly as possible. Considering how busy public restrooms can be, I'm sure we've all experienced the dreaded empty soap dispenser when the time comes to wash our hands. Going from sink to sink until you've finally found one that's full can be a pain, but guess what? Those days might be over with the help of one of Grove Collaborative's newest releases: hand soap sheets. I had a chance to try them out on my latest journey from Louisiana to California, and I'm keeping these genius sheets on hand from now on.
I first learned about soap sheets from TikTok, of all places. Users are constantly posting paper soap as a must-have travel item. If you're familiar with long hours spent on the road (or in the air), then you know how convenient it is to have soap and sanitizer readily available. The Grove Co. Hand Soap Sheets are paper-thin sheets of soap in a slide-out box, and each box will supply you with up to 40 washes. Each strip of soap counts as two washes, and there's a perforated line on each to make them easy to split. They're surprisingly soft to the touch, much like Grove Collaborative's laundry detergent sheets, and the box is pocket-sized for convenient carrying. One warning: Be careful not to get them wet in transit. Any moisture will activate the soap, and you don't want to be stuck with a soapy mess at an inopportune time. Fortunately, I've kept these in multiple travel bags, transferring them from carry-ons to purses, and they've held up fabulously.
So, how do they work? First, make sure you take out the hand soap sheet you're going to use before wetting your hands. Then, place the sheet in your palm, run water on it, and rub your hands together to create a lather. I was instantly impressed by the creaminess of the Grove Co. soap sheets' lather, which is formulated without parabens, phthalates, phosphates, or dyes. Other hand soap sheets I've used haven't felt nearly as rich and moisturizing. The Grove Co. hand soap also has a 100 percent natural lavender blossom fragrance, whereas others I've tried have been unscented. And as much as we don't want to admit it, sometimes the process of hand-washing is a bit rushed — but the hand soap sheets make you slow down. They dissolve quickly, but to ensure there are no remaining soap bits on your palm, you're going to want to rub your hands together thoroughly to rinse it all off.
The Grove Co. Hand Soap Sheets have become one of my new favorite travel must-haves. I've been telling all of my family members and friends about them any chance I get — sometimes even bringing them up in conversation for no reason at all! They're incredibly affordable at $4.95 per box, so I'll be stocking up on more than a few for summer travel and beyond.