Hannah's Cozy Family Farm Home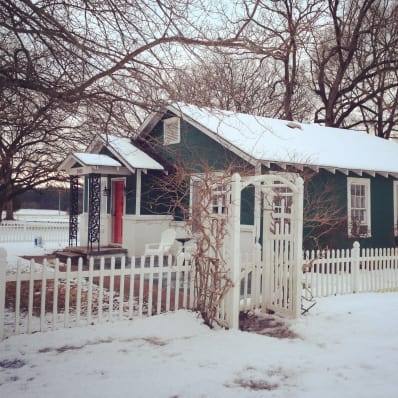 (Image credit: Submitted by Hannah)
Name: Hannah
Location: Tupelo, Mississippi
I am incredibly lucky to live in my great-grandparents home on the land that used to be our family farm. My house is a converted 4-square home that my grandmother, Rooney, was born in. We don't know the exactly age of the home, but it was definitely built before 1936 (Rooney's birth year.) My green little house is completely surround by a white picket fence and directly behind it is our family lake. The family legend is that my great granddaddy was a bootlegger back when our county was dry and that is why the drive-way is circular even after all these years.
(Image credit: Submitted by Hannah)
It is a 2 bedroom house, with a living room, kitchen, laundry room/porch, bathroom and very odd pass through room that now serves as my closet/dressing area. The house was built before air-conditioning and all rooms are connected to each other with windows placed for optimum cross-breezes. So there are A LOT of doors and windows in this little house.
(Image credit: Submitted by Hannah)
My style is pretty unique in my family. Most of my family prefer a more traditional style home decor, but I just love COLOR! One style that can be found within my family is the love of antiques and vintage treasures. Therefore, most of my furniture is from antique stores, flea markets, and thrift stores.
(Image credit: Submitted by Hannah)
After finishing college and working in an office job for a few years I joined the Peace Corps and was stationed in Mongolia. The wall hanging in my living room is one of my prides and joys. It is a traditional Khazak ger (yurt) wall hanging that is hand-embroidered. It is dated with the year 1965. It has hung in every house or apartment I lived in ever since. After Peace Corps I moved to New Orleans and went to grad school, so a lot of the art in my home is from local artists in NOLA.
(Image credit: Submitted by Hannah)
I moved home to Tupelo to be nearer to my family. After being away for over 6 years I wanted to regroup and live at a simpler pace. My grandmother is my next door neighbor and my uncle and cousins live across the lake. Needless to say the saying, "you can't go home again" isn't always true!
Thanks, Hannah!
• Interested in sharing your home with Apartment Therapy? Contact the editors through our House Tour & House Call Submission Form.