4 Reasons Hardwood Floors Might Actually Be Slowing the Sale of Your House
We independently select these products—if you buy from one of our links, we may earn a commission. All prices were accurate at the time of publishing.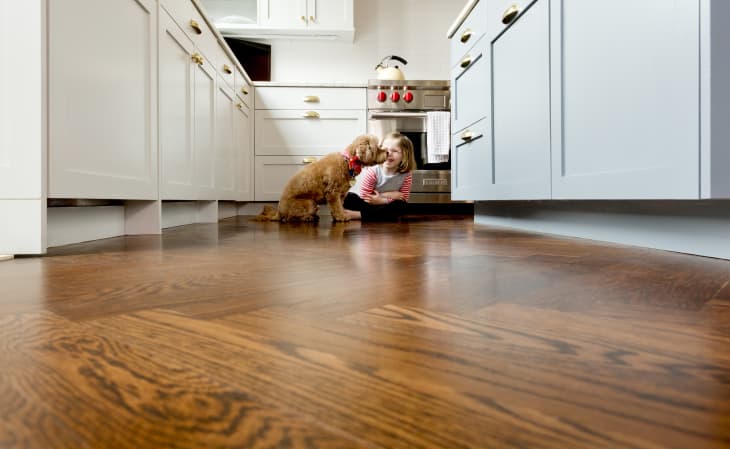 Nothing can transform the ambiance of a room quite like hardwood floors. With the sheer variety of wood species available, the colors and finishes present practically unlimited options for designing a warm and inviting home. But when it comes time to sell, will your choice in hardwoods ignite a bidding war among buyers — or will it be the reason your house languishes on the market?
Follow Topics for more like this
Follow for more stories like this
Hardwood floors are extremely durable, last longer than most marriages, and are renewable. And yet there are a few reasons buyers might be turned off by them. Ahead, find four ways they might be slowing the sale of your home.
Repairs don't come cheap.
"Kitchens and bathrooms with hardwoods can be a turnoff; for those areas, marble, or another durable material, is often more preferred," says Jamie Safier, an agent with Douglas Elliman Real Estate in New York City.
Wet wood can warp, meaning bathrooms and laundry rooms are also danger zones.
"These areas must have resilient flooring that can resist any possible staining, wear, or moisture," says Melandro Quilatan, president and co-founder of Tomas Pearce Interior Design. "I recommend a resilient vinyl or durable tile as smart investments for flooring in these areas of the home."
If you're a messy or avid cook, Atlanta-based designer Beth Brown agrees tile is a better choice for the kitchen. "But for most people, hardwoods in the kitchen are just fine, as long as you don't let spills sit on your floors," she says. "I also suggest a runner — even an outdoor rug — in the kitchen below the sink and dishwasher to help with any potential spills." 
They're not always kid or pet-friendly.
In addition to bath time spills, wear and tear from children and pets can be detrimental to a home's hardwoods. 
"I don't tend to recommend hardwood flooring for households that have young kids or pets — or both — as solid hardwood flooring can dent or become scratched fairly easily," Quilatan says. 
Not all hardwoods are created equal.
Softer woods like fir and pine are common in older homes. Joan Slaughterbeck, owner of Slaughterbeck Floors in Campbell, California, says those species are more susceptible to dents and scratches, a downside for some buyers. Harder woods like oak are preferred.
"While oak is very hard, and is the industry go-to for flooring, there are other species that are much harder," Slaughterbeck says. "Great modern options are Brazilian Cherry, Hickory, Brazilian Chestnut, Beech, or Birch, among many others."
They're not pretty when they're not continuous.
"Continuous flooring is key; there's nothing worse than a chopped-up look with different woods in every room," warns Dolly Hertz, a broker with Engel & Völkers in New York.
But what stain to choose? Brown says the color makes a big difference. "Lighter stains tend to hide scratches but can show marks if it isn't cleaned promptly, whereas darker stains tend to hide marks but show scratches more readily," she says. "I tend to recommend the goldilocks stain — something in the middle."
But don't get us wrong — homeowners definitely want hardwoods.
"There is no question that today's buyers prefer a home or apartment with hardwood floors," Hertz says. However, that doesn't mean that they're willing to pay more for this feature. "While the ROI for efforts at installing them is a modest added 2.5 percent in selling price, buyers prefer the finished look of continuous wood flooring so they don't feel so overwhelmed about the amount of work they need to do before moving in."
Suppose your home doesn't have hardwoods — or you don't have it everywhere? Should you run out and buy them if your home is on the market? "It is still acceptable to show a home with wall to wall carpet in the bedrooms, provided they're clean and in good condition," says Hertz.
The bottom line? Hardwoods have their pros and cons, just like other home features. 
"Many homeowners look to hardwood flooring as a simple, classic item that can add both design flair and resale value to their residences," Quilatan adds. "It's a versatile flooring option that can add warmth, personality and elegance to a home."