The $15 Amazon Find That Keeps My Kitchen Sink from Getting Disgusting
We independently select these products—if you buy from one of our links, we may earn a commission. All prices were accurate at the time of publishing.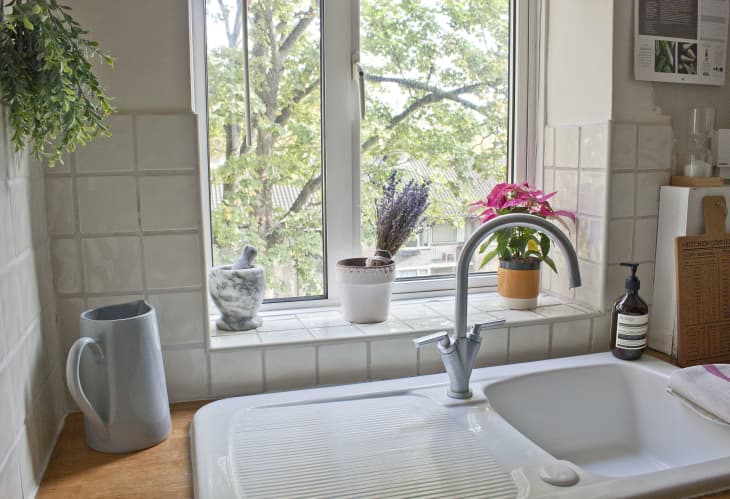 Permission to get vulnerable? (And a little gross?) I have a love-hate relationship with rinsing off my dinnerware. I know it's important to get any stray food crumbs off of my plates and bowls before putting them in the dishwasher, but it often leaves my kitchen sink disgusting. My kitchen sink is decked out with strainers to keep stray broccoli florets or pieces of penne from clogging up my pipes. Problem is, if I don't immediately throw the food scraps from my strainer into my compost bin, they'll block any access to my pipe and create a pool of greasy, gross water in my sink.
Follow Topics for more like this
Follow for more stories like this
"I wish it didn't have to be this way," I'd think to myself every time I spotted that dirty pool in my sink. But, what was the alternative? After all, I already had a sink strainer in place — what else could I do? It wasn't until I was aimlessly scrolling on Instagram while waiting for dinner with a friend that I found the perfect solution: HDYA's Sink Drain Strainer Basket. Suffice to say that this simple (and affordable!) purchase has been a total game-changer.
Unlike a typical strainer — which sits at the opening of your pipes and runs the risk of flooding your sink — this basket hangs on the divider of your double sink. Each basket has a bunch of teeny, tiny holes at the bottom, so it will catch your food crumbs and drain any excess water. Since this option doesn't have any suction cups or nano glue, you won't have to worry about it falling.
I've only had the strainer basket for two months, but it has made the mere act of rinsing off my dinnerware a lot easier — and less disgusting. Instead of being on constant sink watch, I can shovel my food scraps into the basket and dump its contents into my compost bin once it's completely filled. And, if I'm making multiple dishes at once, I can easily toss eggshells or lemon rinds into the basket so I semi-clean while I cook. Pretty genius, huh?
The only catch is that the holes at the bottom of the basket are really small, so it'll take a while for all the water to drain into the sink. If you try rinsing off multiple dishes in rapid succession, your basket might overflow with water; it's a small inconvenience that can easily be solved with some trial and error.
If you don't have a double sink, reach for Lafoxla's Swan Sink Basket, which hangs from your faucet. The good news? Both kinds of sink baskets are on Amazon for $15 or less. An affordable purchase that's so simple and so effective? Yes, please.