This Amazing Mattress Brand Is the Only Thing Bringing Me Comfort in These Sleepless Times
We independently select these products—if you buy from one of our links, we may earn a commission. All prices were accurate at the time of publishing.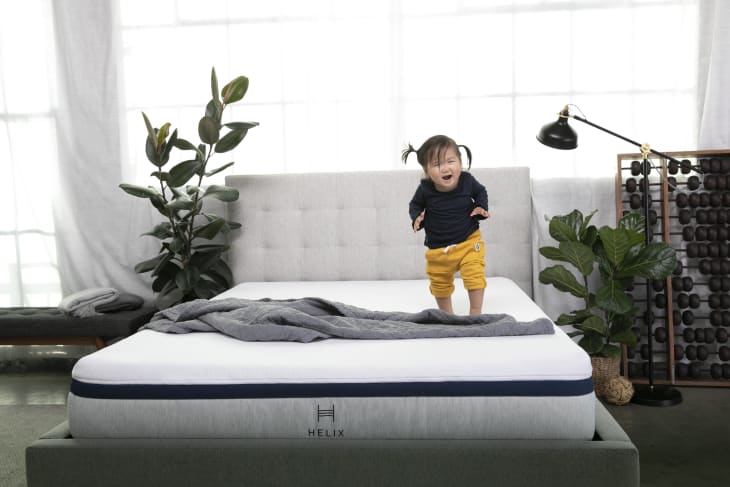 I'm going to brag about something for a second: I've never had trouble sleeping. Maybe it's my genes or my unconscious desire to radiate a well-rested glow, but as soon as I hit the pillow (and stop scrolling Twitter), I'm out cold.
Follow Topics for more like this
Follow for more stories like this
Perhaps you see where I'm going with this. I should say I really never had a problem sleeping until recently, when the world started facing a global pandemic. Now, instead of conking out immediately, I lie awake for a few extra minutes (or hours… depending on my internal impending doom-o-meter) and feel horrible for the people who've had to deal with this all along.
But there's one thing bringing me comfort right now, gently coaxing me to sleep when my brain just won't quit: My Helix Midnight LUXE Mattress. It strikes the perfect balance between puffy-cloud softness and just-right firmness. And it turns out getting a beautiful new queen mattress during a global crisis is a very good decision.
I have never had particularly strong feelings about mattresses, which is to say I never understood how important they are to overall health. I slept on a crummy, five-year-old mattress from Sleepy's (RIP) in my last sublet. Before that, I had the pleasure of sharing a SleepNumber with a former partner. But my Helix blows both of those versions (on opposite ends of the spectrum, I realize) out of the water.
You see, I moved into a new apartment right as shelter in place orders were being declared. So, on top of a deadly virus, I had to figure out a way to lug my stuff across Brooklyn. Thankfully I was able to leave my cheap, aging mattress—and newfound sleep troubles—behind to settle into my new place with a Helix.
The oblong box the mattress was shipped was relatively easy to carry up to my apartment. I'd never received a mattress in the mail before—nevermind one sleekly encased in cardboard—so the "unboxing" experience was novel for me. I easily removed the mattress, a tightly wound cylinder, from the box, and pulled a plastic tab from its end. I continued to pull this tab so the mattress could unfurl and magically expand with air. Watching a new mattress inflate is cool, I'll admit, but I was skeptical that something taking shape with a whooshing noise could possibly be comfortable night after night. I clipped a last layer of plastic casing off the thing, waited two hours, and voilà. It was mine for the taking. 
Being quarantined in a tiny studio with only one major piece of furniture to my name (my Helix, of course) felt worlds away from the day I chose this very model back in the wintertime. I took a sleep quiz in Helix's showroom in Manhattan, answering questions about my sleep position and preferences. Then, after receiving a verdict of "Midnight," I laid on a few other Helix models to make sure my quiz results were accurate. (They were.) I tried the "Sunset" model first, the softest version in the line, before switching over to the "Twilight," an extra firm mattress. (The brand has a total of 7 standard options.) Ultimately, the one that felt juuuust right was in between the two: The Helix Midnight, a medium-feel mattress and the company's most popular model. After my game of Goldilocks, I decided to go with the Helix Midnight LUXE, a step up from the standard Helix that comes with an added layer of cushy polyfoam for extra support. Sounds dreamy, no?
Now, after exactly two months with my Helix, I can confidently say this: My mattress perfectly cradles the side of my body as if spooning me, but without the bad part of spooning—becoming too warm. It's why Helix notched Apartment Therapy's Best Overall Mattress designation in our Best List of mattresses. And it gets bonus points for being up to $200 off during Helix's Memorial Day sale.
The hybrid mattress, which combines memory foam, gel foam, and wrapped coils, is perfect for a hot side sleeper like me. The mattress's quilted pillow top is the icing on the cake, if you will. And it's a cake I couldn't be surviving this pandemic without.