Here's How to Avoid Decorating Fatigue, According to Design Experts
We independently select these products—if you buy from one of our links, we may earn a commission. All prices were accurate at the time of publishing.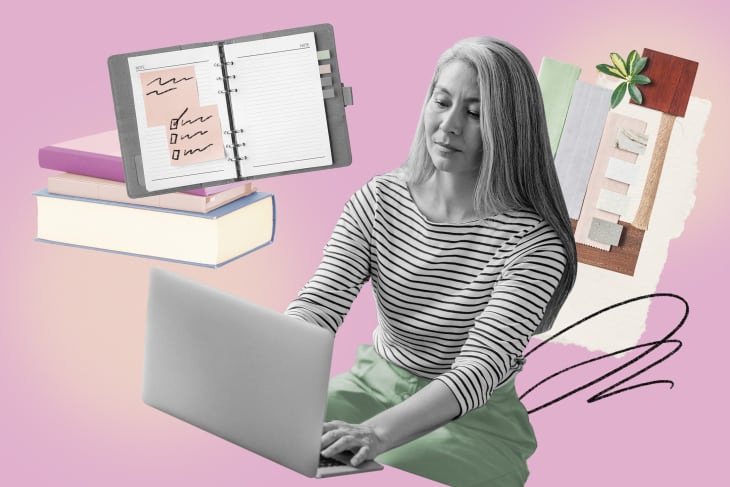 If the idea of taking on a major design or renovation project has you feeling daunted — and preemptively exhausted — you're not alone. With so many moving parts to juggle, ranging from contractor meetings to furniture orders to paint color selections, it can be difficult to imagine taking on a significant home undertaking and not ending up overwhelmed. Plenty of ways to avoid fatigue during design and reno process exist though, according to the expets. Below, designers have outlined their top tips for staying on top of projects and taking small steps to keep things feeling exciting and manageable rather than burdensome.
Follow Topics for more like this
Follow for more stories like this
Being proactive makes a big difference
First things first, it's important to set realistic expectations when embarking on a major design project. "Once you have a good estimate on how long you think the project will take, double that — and sometimes triple it, given the never ending shipping delays," suggests designer Keyanna Bowen of East & Lane. "That helps take the pressure off and you are able to move at a pace that fits your schedule."
With that, remember that while you're used to seeing what feel like immediate transformations on TV or in Instagram Reels, it's more than ok to take things slow. "Set daily/weekly/or monthly reno goals depending on the scale of the project," offers YouTuber and DIY expert Drew Michael Scott of Lone Fox. "Breaking down projects will make them feel achievable. If you can only work on things during the weekend, then break down the project into x-number of weekends you can focus on it."
Worried about decision fatigue? Taking some key, proactive steps will help circumvent burnout during the design or renovation process. "Get ahead of the game — work with a designer or meet with your contractor to ask them what kinds of decisions they will need from you in the next four weeks," suggests designer Avery Cox. "This forces them to think ahead and gives you time to do your research and ensure everything is ordered, so you're not making last minute and often ill-informed decisions." If you worry about being overwhelmed with too many details and choices all at once, take steps ahead of time to address your communication preferences with your reno team (or just the other people living in your household, if applicable). "Ask your contractor or designer to batch together questions and decisions that need to be made in a twice weekly email," Cox advises. "This forces them to think ahead and also gives you the time and space to respond thoughtfully."
Last but not least, ensure the design process doesn't feel solely like work by building in some time to just be inspired. "Make time to be giddy!" Cox says. "Get out of the house, go see things in person, take a break from decision about tile grout, and go buy a piece of art for the new space." Taking some time to do so can pay dividends. "Shifting your mind to a different part of the project allows you to get excited and keeps the energy high," Cox adds. "Taking a break from the details allows you to reengage with more vigor and focus."
Stay focused and motivated
To stay focused and motivated during the design and renovation process, pros say physical trackers are key. "We track our projects using a number of different tools, but if you aren't in the trade, the best thing to use are cloud based documents and spreadsheets," Cox says. "You must create deadlines for yourself. Our firm operates around different 'milestones' for things like placing orders, presenting ideas, ensuring we have shared drawings, and specifics about materials by certain dates."
Bowen finds that, interestingly enough, she benefits from limiting the amount of design-related content she consumes over the course of her own project. "Being over-stimulated with inspiration and ideas can have you second-guessing your decisions and lead to scope creep — constantly making changes to the original design plan — which then prolongs the project," she says.  "Since projects can take an exceeding amount of time to complete, you have to learn to celebrate the small wins, like finalizing a paint color, or a small furniture piece being delivered,  to keep you motivated and excited for the finished product." So while you should hold time and space to be inspired, you don't have to flip through a 1,000 magazines or scroll on Instagram every day for an hour to feel like you know what you want. Similarly, to ensure you're not tempted to deviate too far from your original plan, try implementing this hack that designer Lexi Brandfon of Lex & Hudson Interiors swears by: "Printing out two to three, but not more, inspo pictures that truly inspire you helps motivate you to stick with the original vision," the designer notes.
Take advantage of (free!) design tools
During her own projects, Cox enjoys using platforms like Pinterest to assist with planning. "We create different sections for every room and sometimes specific categories like 'coat racks,'" she explains. "We always create a 'look and feel' deck for each space before we start sourcing items." Cox notes that this document is frequently referenced throughout the course of the project, which is something you can recreate on Pinterest or in Keynote or Microsoft Power Point, if you'd like to. Scott is partial to Milanote. "It allows you to essentially make your own online pin boards of images, links, textures, to-do lists, and so much more," he explains. "It's been a great tool I've utilized as I take on more projects and need to keep everything organized."
Designer Annie Downing loves a good mood board, and they're key to her success. Inspiration boards may contain a range of items. "It could be a dress because we like the pleat detail — ceramics, a piece of furniture, a sunset, or a fabric we think they would love," she notes. "We share these with our clients and get their feedback before we dive deeper into the design. It's a great starting point and drives the rest of the design moving forward."
And don't forget about flipping through good, old fashioned books. "I love to look through travel books for design inspiration," Bowen shares. "Not only does it give me some serious wanderlust, but it also opens up my mind to design ideas and a global perspective that I may not have had by simply viewing what the algorithm populates on Pinterest."
Manage shipping delays with aplomb
Unfortunately, long lead times continue to be a reality and can make even the smallest design project feel like a drag. To mitigate the shipping chaos, make a tracking sheet to manage orders and follow up on their status. Bowen suggests creating one on Google so that it's accessible across devices. "I keep my spreadsheet simple with four categories: date ordered, order number, a link to the tracking, and store contact number in case I need to follow up with a customer service representative," she says.
Being proactive can go a long way, Cox shares, noting, "This is a true and good example of the squeaky wheel getting the grease; staying on manufacturers absolutely speeds things up." Additionally, getting organized comes with other benefits. "Following the process allows you to feel like there are things happening every day instead of you just waiting around without any information," Cox says. When working with her own clients, she will engage in mid-project check ins, during which she will go over and revise mockups and renderings as needed and show clients what they can expect. "This is also a good time to start thinking about art, styling, and additional furniture items to distract you from the on going construction process," Cox adds. You might not want to go through this formality, but it's not a bad idea to take stock of the whole picture of your project every now and then.
Telling yourself a piece is worth the wait can be helpful, too, says designer Olivia Wahler of Hearth Homes Interiors. "We always remind ourselves and our clients what they are waiting for not just the individual items but the whole picture," she comments. "It might take a couple meetings and revisiting design presentations to get the excitement levels back up, but in the end, waiting a couple extra months in order to get the whole picture is always worth it!"
Of course, sometimes delays are just too substantial and things need to be rejiggered a bit, Cox says, but this isn't the end of the world. "We start looking for alternates that give the same feel," she says of her own process in these instances. "Diamonds are made under pressure! Most of the time our second choice ends up being the better choice and makes for a more interesting project." Bowen echoes similar sentiments. "When I'm facing hurdles, I ask myself if this is something I'm willing/able to wait for. If the answer is 'yes,' then it's just a matter of me being patient until I'm able to achieve what I'm hoping for," she says. "If not, then it's time to brainstorm a new idea," she adds. "There's almost always an alternative solution, and sometimes you'll find that outcome is even better than the original idea."
Designer advice on keeping on when the going gets tough (from their own personal projects)
Cox notes that when working on her own space, she experiences more decision fatigue than she does with clients, as she is much less objective. "When designing my own home, I feel a lot more pressure to do something innovative and creative," she explains. However, as Bowen notes, working on one of her own home projects takes a certain amount of pressure off the table. "One of the best things about designing for myself versus a client is that I don't have to impose deadlines," she says. "I am not bound by what's in stock or what can be delivered or completed by a certain time frame. Instead, I'm able to slowly and thoughtfully curate my home with pieces that I've collected over time, which makes my home feel so much more meaningful." If you approach your project with that mindset, you might find it takes some of the pressure off of the completion, which may make the whole process feel less anxiety-inducing or burdensome.
All that aside, being exposed to so many different styles on a daily basis can make narrowing a focus difficult, too. "We have seen it all, and have come to appreciate so many different styles and tastes, so finding the direction to go in that feels authentic to ourselves takes a lot of time and thought because we like so many different things," Wahler says. "That said, we always like to use the architecture of the home as our North Star, and we try to stay true to that no matter what." Now, that's advice to always keep in mind when the going gets tough during a home project of any size!