IKEA's Latest Collection Brings New Patterns From Classic Swedish Designers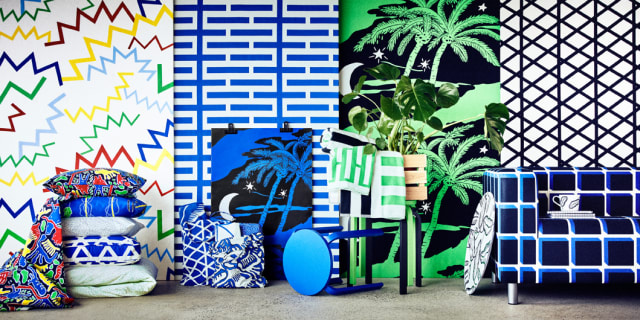 (Image credit: IKEA)
Your local IKEA is about to get a bit more colorful. Meet AVSIKTLIG, the latest collection from the retailer that taps Swedish design rockstars 10-gruppen for a pattern-filled ode to bold style.
If you've never heard of 10-gruppen, allow us to fill you in. The design collective was started in 1970 by ten Swedish designers, and the team quickly became "part of the anti-establishment force of the time, turning against the current aesthetic ideals," according to IKEA.
"As a child I was taught not to mix spots, stripes, checks and bright colors. It was considered poor taste. For me it became a political issue," says Carl Johan De Geer, one of 10-gruppen's co-founders. "Our ambition was to clean up the design swamp...We wanted to create a better world without war using colors, patterns and music."
The collective's first collection was promoted with a poster that read like a manifesto and explained that the members were disappointed with the troubled Swedish textile industry and were looking for work in Sweden and abroad.
In 2015, the remaining 10-gruppen members decided to pass the torch—by working with IKEA's young designers. The result is AVSIKTLIG, a collection of 14 patterns "that fuse the past and the present...proving that it's possible to celebrate history and still be super contemporary."
"10-gruppen has always attracted the young. I didn't want that only we, the elderly, to create patterns for this collection – it felt important to bring in a new generation of designers, and mix things up," says co-founder Tom Hedqvist.
The AVSIKTLIG patterns will be popping up on a variety of IKEA products, including rugs, trays, curtains, pillows, and even the KLIPPAN loveseat starting in May. Check out a preview of more of the items in the video below:
The history and work of 10-gruppen will also be on full display in a new book, 10-gruppen Patterns & People, which you can snag for $7.99.