This HGTV Star Has a Bedside Faucet and We Need One Immediately
We independently select these products—if you buy from one of our links, we may earn a commission. All prices were accurate at the time of publishing.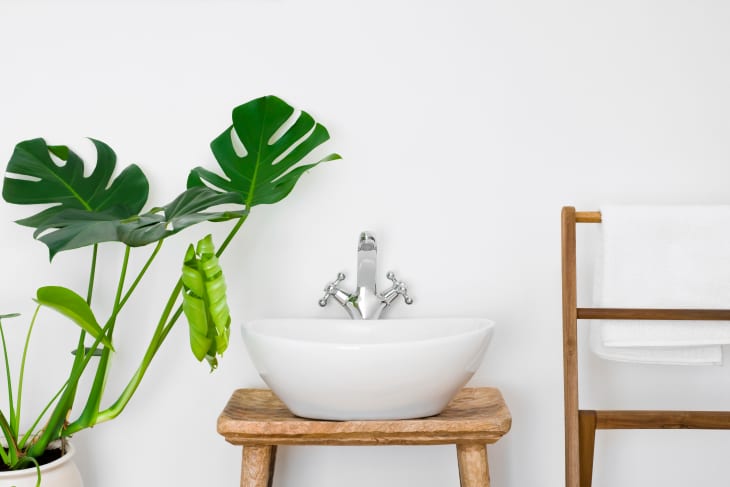 We all know the feeling of waking up parched, and then you're faced with a difficult decision: get a glass of water and risk not being able to fall back asleep, or stay in bed and wake up dehydrated. But in a recent interview with House Beautiful, HGTV star Leanne Ford revealed the solution to this relatable debacle: a bedside faucet. 
Ford is one of the driving forces behind the HGTV show "Restored by the Fords," where she teams up with her brother Steve to restore homes in Pittsburgh. House Beautiful got a sneak peek inside one of the latest renovations that will be featured on the show—and we stopped dead in our tracks when we noticed the photo of Ford turning a knob on the faucet…next a bed. 
Follow Topics for more like this
Follow for more stories like this
Installing a bedside faucet "was fulfilling a longtime dream," Leanne said. And we're so glad she was able to bring this creation to life and indirectly fulfill a dream we didn't know we had. Imagine how life-changing this might be, and how it maximizes more bed time. In the middle of a nail-biting book? Grab yourself a glass and fill up for hours. Working aggressively on that last-minute team project? Hunker down under the sheets and hydrate. Need to binge-watch the new show "Cheer?" Must we say more.
In all seriousness, if you look at it closely, the attention to detail is phenomenal. The spigot is an intricate brass bird—our best guess is that it's a falcon, but we're still taking suggestions. Or, maybe we should just tap a bird expert. (Tap, faucet, get it?). Also, the less obvious but just as equally design-centric detail lies in the rope looped several times and tied tightly around the brass piece, as well as the rope horseshoe shape around it that keeps it all together. 
The only thing we would suggest? Get a nightstand—that way, you can put down your glass of water from time to time.