8 Simple Home Improvement Projects No One Should Skip Before Selling
We
independently
select these products—if you buy from one of our links, we may earn a commission. All prices were accurate at the time of publishing.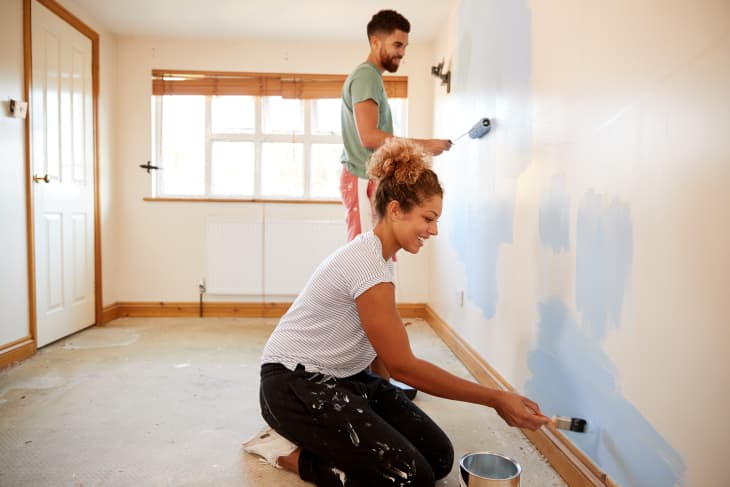 When you're getting ready to sell your home, your to-do list is already a mile long, and making big improvements to a place you're about to leave can feel pretty anticlimactic. But even little touches can go a long way toward impressing buyers. So don't put your home on the market without addressing these small fixes first. 
Make sure hardware and lighting throughout the house matches—and functions properly
"We do door knobs and handles, we want to make sure they all work and match," says Steve Moses, a Redfin home services manager in Los Angeles. "We try to make the house look uniform—so if there's gold hinges, we probably want gold hardware, if there's silver hinges then silver hardware."
"This may seem like a given, but making sure that all lightbulbs are working and matching is a good thing to have on the checklist," adds Kiernan Middleman, a real estate agent at Berkshire Hathaway HomeServices Warren Residential in Boston. You might consider swapping out old switch plates and outlet faceplates to make sure they all match as well—even metal wall plates cost just a few bucks, and all you need to install them is a screwdriver. 
Replace cracked grout or caulking
"Making sure the grout and caulking around the tub and sinks is fresh and clean is so important, and is a very low-cost fix that gives a great impression," Middleman says. For about $25 in supplies, you can cut out cracked caulking with a sharp utility knife, then thoroughly clean the area, let it dry, and apply a new bead with a caulking gun. 
Refresh the main entrance
It's common for sellers to not give the entryway the attention it deserves, Moses says. After all, it's a buyer's first impression as they approach the house. He makes sure to put down a nice welcome mat, clear any spider webs or other debris, and plant flowers near the entrance in beds of fresh mulch. "You don't realize how far a $3 bag of mulch goes for the curb appeal of a house," Moses says. 
Replacing a dated outdoor light fixture is a simple $20 fix, Moses adds. And he devotes plenty of attention to the front door. "A lot of times we change out the front door handle and front door lock. That gives a nice fresh appearance to the front door," he says. "We've even been painting front doors recently, too… that's a very inexpensive thing to do that can add a good amount of character to the house." 
Did you honestly think you would get through this article without hearing about the virtues of a fresh coat of paint? "Paint is probably the best return on investment," says Bill Tierney, an agent in Cohasset, Mass., particularly if it's a soft, light, neutral color. "The closer you can get your house to a Pottery Barn catalog, the better off you'll be."  
Wash all windows inside and out
Or even pay to have your windows professionally cleaned, says Tierney. When springtime sunlight is streaming through crystal clear windows, it subtly brightens and cheers up a home. "But when you have a bit of grime on the outside after a long winter, and the sun is shining through and the windows look dirty. It sends a different vibe that maybe the house isn't that well maintained."
Refinish worn hardwood floors
Bringing old hardwood floors back to sparkling life is another of Tierney's go-to suggestions. "It's a bit of nuisance if you're living there, because it's a dusty, messy process," Tierney says. "But it shows so clean and new, and you can do a room for $500. It's not a lot of money." 
"If you're going to spend any money, I'd consider spending it on a professional stager or home editor to make the home look as good as possible," Moses says, who hired a home editor when listing his own property. "I have two little kids, and it was worth every penny to have somebody come in and make some of the rooms look better and bigger, just with my own furniture." 
Tierney says it's just as important to declutter closets. "Think of the psychological aspect when you open a closet door and you see everything is just jammed in there… People are going to think, 'Oh my God, they have no room for their stuff, this house is too small,'" he says. So pack up as much of that stuff as you can—with any luck, you'll be moving soon anyway—so there's two inches of space between every clothes hanger. "That doesn't cost anything other than a few boxes and a couple hours of your time." 
"I even go as far as storing non-essential items that are usually on the counter, like the toaster or blender," Middleman says. She adds that while a deep deodorizing clean is essential, plug-in air fresheners and candles are a mistake. "Ditch them, all of them. They drive buyers out of the home faster every single time." 
Install working smoke detectors
Finally, Moses says an obvious but sometimes overlooked project is to make sure the home meets the basic conditions that banks require for financing. "With any house that has a loan, you need to have smoke detectors in every bedroom," he explains. Other lender requirements generally include functioning heat and hot water, a working stove, and a roof that's not leaking. It may seem obvious, but a fresh coat of paint isn't going to matter if rainwater is dripping down those pretty pastel walls—so take care of the basics first and foremost.