I Sent a Home Stager Photos of My Linen Closet — Here's What She Told Me to Get Rid of
We
independently
select these products—if you buy from one of our links, we may earn a commission. All prices were accurate at the time of publishing.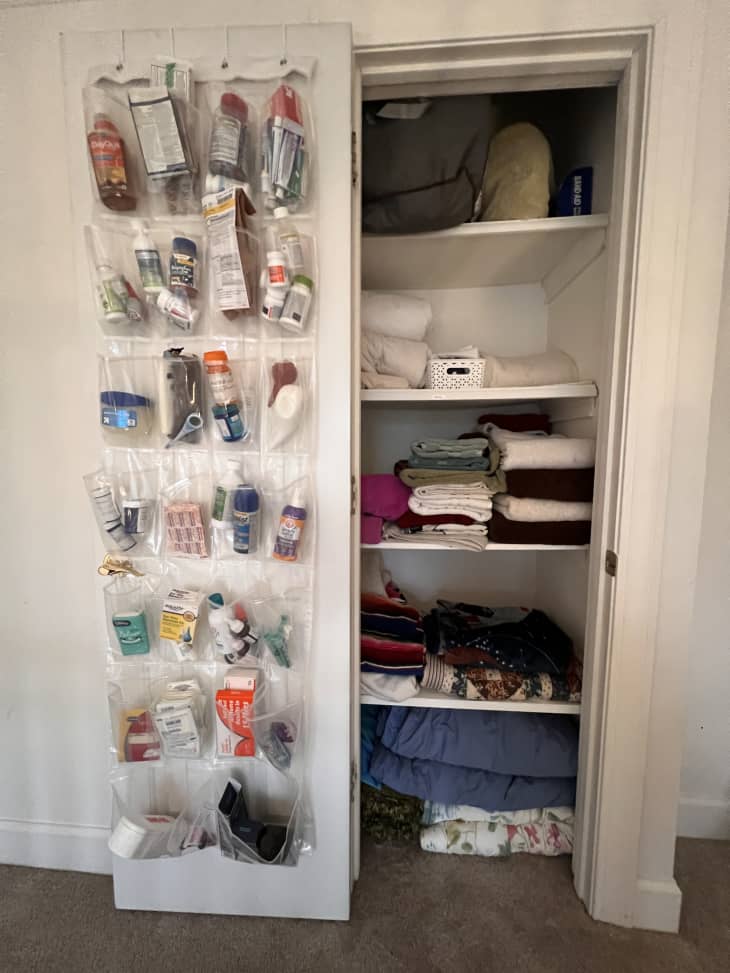 Getting our house in Florida ready to sell was a huge undertaking. I'd been slowly decluttering different areas in our home in preparation for our move, but when our Realtor's home stager, Monica Collins of Snapshot Staging, came for a consultation, I quickly found out that minimizing for showings was a whole different ball game. 
Monica and I instantly bonded over her sage update of the "one in, one out" strategy, which usually dictates that you should get rid of one thing for each new item you bring into your home. Instead, her rule is, "One in, three out," and it's stuck with me ever since. As we're setting up our new home, I can't wait for her to come give her input on our new place. In the meantime, I sent her a photo of our linen closet and asked her what she'd change about it, as if we were getting the house ready to sell. 
The picture that I sent to Monica was of our linen closet in its lived-in, current state, after I organized it — but also after I wasn't the only one putting things away and taking them out in that space! 
Here are the main things she told me to change.
Remove the shoe holder from the door. Monica states her reason for this change succinctly: "Although this containment solution is functional and intentional for your family, it may give the impression to some that there is not enough room in existing storage cabinets/closets to store their things." Also, of course, meds should not be accessible during showings.
Remove and re-fold. The best way to revamp the linen closet is to take everything out and re-fold it so that everything is folded into the same size and then placed in the closet facing the same direction.
Place bulky items on the top shelf. Monica suggests moving bulky items like comforters and large blankets to the top shelf and moving the gray storage bags to the bottom of the closet. 
Place rounded edges out. Placing the rounded edges of blankets, sheets, towels, etc., so that they face out makes everything visually pleasing. It also gives the illusion that everything is the same size and depth, which also looks harmonious. 
Stack largest to smallest, evenly, and color-coordinate. When stacking items like sheets and blankets, stack the largest on the bottom and the smallest on top, making sure the round edges are evenly placed on top of each other. "I use multiple stacks, evenly dispersed, so nothing is leaning," Monica details. "It looks much better when stacks have clean lines." 
Store sheets by bed size. Take each sheet set and fold it the same way so they are flat and consistent and place each set into one pillowcase of that set. "Tuck the excess of that pillow case inward so it looks intentional and stack neatly," Monica explains. "This 'hides the ugly' meaning, instead of seeing full sets, you will see one pillow case stacked nicely." Taking it a step further, she likes sheet sets to be color coordinated, light to dark, if it fits the situation. "The visual effect," she says, "speaks volumes." 
Be consistent with towel storage. Whether you fold towels the same way or roll them, be consistent in the way you store them. As always, stack nicely, round side out. Monica shares, "I feel this streamlined placement looks clean and intentional." 
Use the opportunity to declutter. Knowing Monica's "one in, three out" mantra, it comes as little surprise that she would advise anyone who's getting their ready to sell to take the opportunity to decide what they need and what they don't. "If you have any sheet or towel sets that you no longer use, are missing pieces, have holes, are old, or do not smell fresh anymore, go ahead and purge now before you pack and move them to your new house," she says. "You will thank yourself later for taking that five minutes to make those decisions." 
To close, Monica reminds us of the big picture when it comes to staging a home: "Removing visual clutter represents a clean house that has been well maintained and [shows] that potential buyers will have plenty of room for their belongings." 
Even if we're not selling, these insights can help us achieve a peaceful space while we ourselves are inhabiting our homes. I, for one, can't wait to get my hands on my linen closet (again). Thank you, Monica!