Steal These 7 Tricks That Home Stagers Use in Their Own Homes
We
independently
select these products—if you buy from one of our links, we may earn a commission. All prices were accurate at the time of publishing.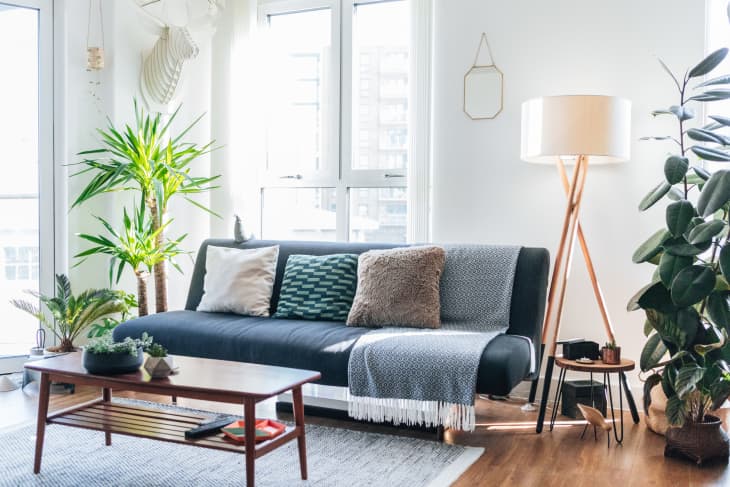 Ever wonder if home stagers practice what they preach? We often do—so we asked two stagers to virtually open the doors to their own houses so we could see how they organize and showcase their properties. Here's a room-by-room guide to their best tips.
Expand your entrance area
The first space visitors see should be welcoming and bright, ideally encouraging people to walk through your home, says Heavenly Hart, a certified home stager in Atlanta, Ga.
"Use a pop of color in the entrance that leads into adjoining rooms to create a flow and give the illusion of a larger space," she explains. "I placed an upholstered settee to introduce pattern, texture, and comfort in my entrance. Another staging trick I used is an oversized mirror to catch the natural light from my Palladian window, which makes the space bright and warm."
Kim Pearse, owner and lead designer at The Staging Consultant in Nashville, Tenn., suggests leading the eye to a bold item on the other side of your house. 
"Our eye will seek color first, and the space will feel visually larger," explains Pearse. "I always have brightly-colored flowers out on the patio, which is the farthest you can see when you walk into my home."
Dress up your living room
This is where you spend the most time, so play up the room's best features, says Pearse.
"Showcase the 'money' in the room—a fireplace, built-ins, great windows," she says. Clear space around those elements so you're not walking around tons of furniture to appreciate them. 
Speaking of furniture, Hart swapped out a coffee table in favor of four square ottomans pushed together, which does double as a surface or additional sitting. Keep large pieces about five inches away from your walls, which allows the space to breathe. 
Curtains add the finishing touch to a living room—like icing on a cake, says Hart. 
"I hang my curtains four inches below the ceiling line, with the curtain bottom touching the floor; that draws the eye upward, making the room appear much grander," she says.      
Placing large wall mirrors directly opposite your living room windows will also open up the space. 
Add vignettes in your dining room
If space permits, create a bar setup on a rolling serving cart, side table, or buffet, and be sure to have at least one more dining chair than the number of bedrooms in your house, suggests Pearse.
Hart's area rug, meanwhile, visually anchors her dining room while adding texture and pattern. 
Keep your kitchen clutter-free
Even if you're not trying to impress buyers, your kitchen should look clean and organized, says Pearse. 
"Remove items from the front and sides of the refrigerator and tops of kitchen cabinets," she advises. "I like to add color, such as a bowl of fresh lemons and limes for making cocktails, or a wood cutting board with oils and greenery to give the space life."
Hart keeps countertop clutter at bay with baskets stored in a lower cabinet or her pantry. She also suggests updating your cabinet hardware every few years for a new look.
"I add flowers in most rooms, including my kitchen, to add warmth and a pop of color," adds Hart. 
And if you don't have a green thumb, artificial plants also provide that polished, photo-ready look.
Stage your bedroom for serenity
"Positioning the bed in the middle of the wall opposite the bedroom entrance is a trick I use in staging and in my own home to add balance and make the room seem larger," Hart says. 
Pearse suggests dressing the bed in light colors. 
"Often, the bed is the focal point of the room, so we want it to shine: Layering your bedding feels luxurious and makes getting into bed every night a joy," she says. "I have at least six pillows on my bed, plus a quilt, a comforter, and a throw. It looks so yummy."
Keep nightstands free of clutter, she adds. Instead, have some greenery, a book, and a lamp that's almost as tall as your headboard. 
Add some luxury to the bathrooms
Fluffy hand towels in soft colors aren't just for open houses. Treat yourself, too, says Pearse.
"The bathroom must feel as luxurious as possible: Try a tall orchid on the vanity, crisp white towels and a simple piece of art," she says.  
And ditch that melted mess of soap near the sink, begs Hart. 
"Bar soap is a no-no in a staged bathroom and my home," she says. "I use decorative bathroom soap dispensers and place my special facial soaps out of sight in a beautiful covered dish on the countertop."
Hart uses floor-to-ceiling shelving in her home office to add height to the room and display books, plants, and decorative accessories. Large plants are a great way to hide unsightly wires near your desk, she adds. 
Make your home office more inviting with strategic desk placement, suggests Pearse. 
"My desk faces the door with my chair behind," she says, adding that decorative boxes can corral small office items to keep things tidy and organized.