See How Strategic Home Staging Transformed a Vacant Room into a Bright, Breezy Den
We independently select these products—if you buy from one of our links, we may earn a commission. All prices were accurate at the time of publishing.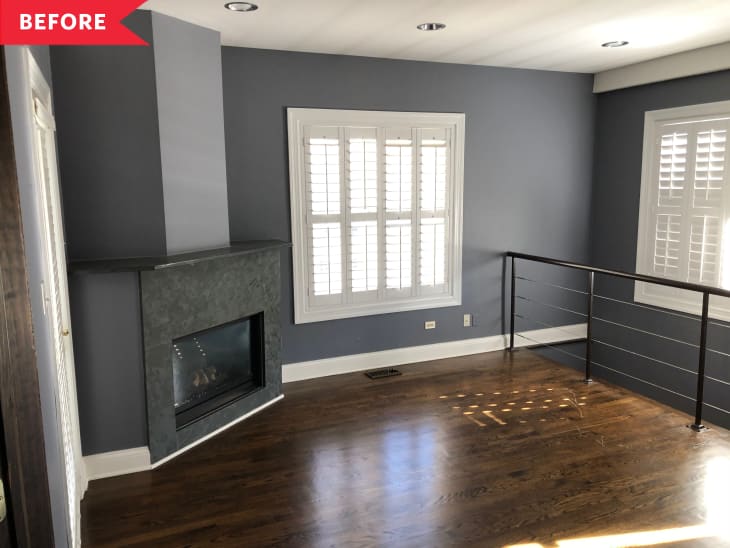 When you're house hunting, the idea of a bonus room always seems like — well, a bonus. But, once you buy the place and move in, suddenly, the opportunity afforded by that bonus room results in a great big question mark. What the heck should we use this room for? And how do we decide on a layout for it?
Follow Topics for more like this
Follow for more stories like this
That was the riddle Brad Pierce, creative director at Cheri Kasella's Haven Home Staging and Redesign, Inc., in Chicago, was tasked with answering when staging a two-story, 1,900-square-foot penthouse condo in downtown Chicago.
The three-bedroom, three-bath unit, which was built in 2002, had a lot going for it, including large bedrooms, three outdoor spaces, and a killer location in the city's Gold Coast neighborhood. But climb the stairs to the second floor, and you'd find an ambiguous bonus room located next to the main bedroom. The small, awkward space was bounded by a railing and open space on one side, and three walls, all of which contained windows or doors, on the other. In the corner, a fireplace added further limitations to the layout. 
With little floor and wall space to work with, the former homeowners were at a loss when it came to utilizing the room to its fullest potential.  "Feedback received by the realtor was that this particular space was difficult for buyers to envision its usage as it can be easily seen as simply an oversized hallway to the primary bedroom or an open space at the top of the stairs, which happens to have a fireplace," Pierce says.
When he staged the space, he deemed it a den, implying that it's meant for both work and play, he says. "We wanted to show that, despite its challenges, this room could be both a separate living space and a work zone," Pierce explains. "Especially during this pandemic, we've seen the importance of having separate live/work areas within rooms to accommodate many of us working from home." 
In addition to its small size, the dark gray wall paint wasn't doing the space any favors, making the ceilings appear even lower. So, the Haven team requested that the homeowner have the walls painted a lighter gray shade. "This was important to instantly make the room appear larger, and it helped to highlight the modern fireplace," Pierce says.
He also had the recessed lighting in the room updated and the windows and skylights cleaned. The result is a light-filled space that looks and feels larger than it did before — and, indeed, larger than it actually is.
In terms of furnishings, the window and door placement posed serious challenges, but Pierce made it work. A minimal desk with a glass top and a matching chair hug up against a double window, providing natural light to the workspace and outdoor views for someone working there. The sleek design is well suited to the small space, whereas a blockier, heavier piece would overwhelm. A plush, high-pile area rug in a cream hue grounds the room while adding even more brightness.
Nearby, a seating area comprises two gray chairs with throw pillows and a metallic side table. Pierce positioned the grouping to face the fireplace, allowing the future owner to sip a morning cup of coffee or a nightcap while enjoying the warm fire — just the antidote to the cold winter weather the Windy City is known for.