People Are Buying Homes Solely Through Virtual Tours These Days. Here's What You Should Know
We
independently
select these products—if you buy from one of our links, we may earn a commission. All prices were accurate at the time of publishing.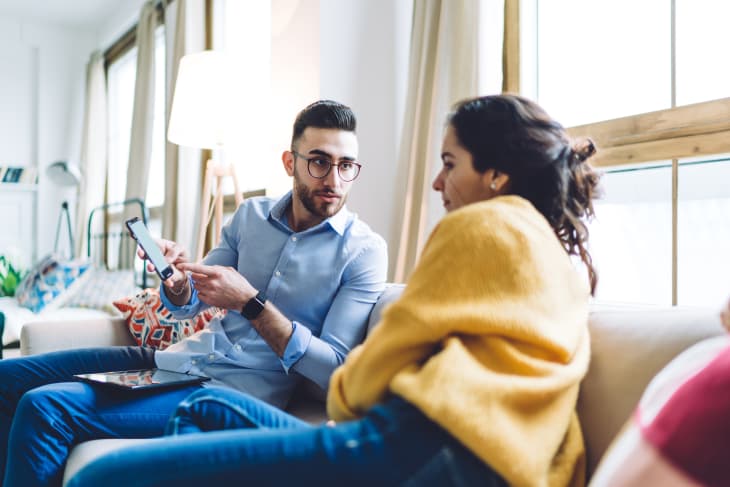 As people across the country hunker down at home, obeying stay-at-home orders to help curb the spread of coronavirus, many aspects of daily life have gone virtual. From Zoom meetings with colleagues to FaceTime happy hours with friends, we're finding ways to connect while being physically apart.
The pandemic has affected every industry, and the real estate business has been no exception. When house hunting, prospective buyers naturally want to inspect every square inch of a home. At a time when open houses are all but off the table—and even one-one-one tours with an agent seem risky—what's a homebuyer to do?
Just like everything else these days, home tours are going virtual. According to data from the Zillow Group, in mid-March, the real estate site saw a near doubling in the creation of virtual tours using 3D Home. The company's AI-powered mobile tool allows agents, sellers, landlords and property managers to capture 360-panoramic photos of a property, which are then made into a completely free, three-dimensional tour.
The upside to virtual tours
If you're wondering how a virtual tour can possibly compare with an in-person walk-through of a property, you should know there are specific advantages to scoping out houses from your phone. For one, if you're the type that needs to compare shop 'til you drop, virtual tours allow you to see more homes in less time.
"A buyer can see two dozen homes in an afternoon, where that likely wouldn't be possible in person when you factor in travel time," says Katherine Nelson with Allen Tate Realtors in Greensboro, N.C. "Plus, buyers can easily go back to see the home again as often as they'd like."
Brian Dougherty of Compass recently sold a home in the Boston area to buyers in San Francisco. Due to shelter-in-place orders, they weren't able to make the cross-country trip to see it in person, relying only on what they could see in photos and a virtual tour before deciding to sign on the dotted line.
To make it work for both parties, Dougherty says a high production value is key. A live tour is preferable to a recorded one, and he recommends using a late-model smart phone, such as an iPhone 11, which has great photo and video quality. Consider, too, using supplemental lighting designed specifically for mobile photography and filmmaking. 
"A live FaceTime or WhatsApp video tour with narration can be extremely effective in helping a buyer see all the nooks and crannies of a home," he says. "A strong internet connection, excellent natural and supplemental lighting, and a quality smartphone are essential for a virtual tour that wows."
A live virtual tour also gives buyers the opportunity to ask questions on the spot and go back to certain areas for a closer look. As a buyer, don't hesitate to give the agent directions, such as asking them to zoom in on a spot, open a closet door, or take a step back. And make sure you're getting a good look at the exterior home from all angles. Buyers will want to get a grasp of the home's curb appeal, the parking situation, and the surrounding neighborhood as much as possible.
Dougherty says taking your time is important. In his case, the buyers' agent, Scott Farrell of Compass, took 90 minutes to show them this six-bedroom, six-bathroom estate in Massachusetts.
The pitfalls of virtual home tours
Although virtual tours can be a great substitute when an in-person viewing is not possible, there are a host of unique challenges. No matter how high-quality a video is, certain aspects of a home are difficult to convey without seeing them for yourself in person.
"Buyers cannot walk on the hardwood floors and feel how solid they are," Nelson points out. "They can't open closet doors to see how spacious they are, or touch and test appliances."
While a live virtual tour could help mitigate some of these problems, ultimately, an intangible sense that a home is meant for you can be difficult to glean from a screen. Virtual tours aren't for everyone, and that's OK.
"I compare looking for an apartment to dating," says Joel Moss of New York City-based Warburg Realty. "You know when you like someone; no one has to tell you. There is just a 'click.' The same thing happens when a buyer is looking for a home. No one has to tell you it's the one. In the same way, I imagine a virtual tour similar to online dating. At some point, you will still need to see it in person."
The future of virtual tours
While this surge in video home-touring may not lead to a surge in virtual purchases anytime soon, the usefulness of the tool during this time of social distancing will likely have lasting effects on the real estate industry.
Dougherty predicts the majority of buyers are still going to want to see a home for themselves before signing on the dotted line, but he thinks that the popularity of virtual tours in the short term will lead to their use as a "previewing" tool in the long term. As virtual tours increase in quality and prevalence, buyers will look to them as an initial screening mechanism. A virtual tour will be seen as a prerequisite before committing to an in-person tour.
Nelson thinks that virtual tours will also affect the way buyers approach open houses, noting that people could take Saturday to use virtual tours to narrow down the homes they want to see in person on Sunday. 
"Right now, virtual tours are a point of difference, but in the future they will become an expectation," she says. "We can all benefit from a more efficient buying process."