People Are Recreating Disney Rides In Their Homes, No Fast Passes Necessary
We independently select these products—if you buy from one of our links, we may earn a commission. All prices were accurate at the time of publishing.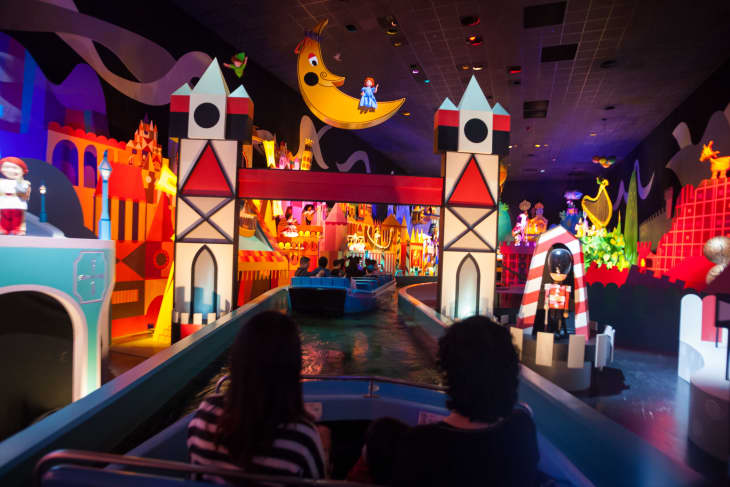 With most forms of entertainment, including theme parks, closed for the foreseeable future, people are getting creative with ways to stay entertained while they're self-quarantined at home due to the coronavirus pandemic. Park goers are loving being able to experience their favorite rides from the comfort of their couches by way of YouTube videos, but some die-hard Disney fans are upping the ante altogether, recreating the most beloved attractions in their own homes.
One Washington video editor seemingly kicked off the trend after an upcoming trip to Disney World was cancelled, and she got crafty, creating DIY versions of her favorite rides and documenting her whole journey in a Twitter series she calls #HomemadeDisney.
She started by using an Amazon Echo Dot as a makeshift Magic Band reader, which allows guests to enter the real parks. She then "visited" the Magic Kingdom in her home office, hitting up some of the park's most iconic rides, from It's A Small World to Haunted Mansion.
Siswick then took a trip to Epcot, recreating the park's signature landmark, Spaceship Earth, lit up at night with a Nike soccer ball. She even "bypassed" the long lines at the popular Frozen Ever After attraction, joking, "There is never a line for Frozen Ever After at homemade EPCOT."
She then recreated Soarin' Around the World, which has been her most popular tweet in the series so far. As she told Insider, "I think what's made that one tickle people so much is the little details I put in there, like pulling on the yellow strap to make sure you're strapped in, and the smells you get as you're soaring over."
The one ride she couldn't get on? The newly opened Star Wars: Rise of the Resistance at Disney's Hollywood Studios, which requires a highly coveted boarding group—instead of a standard queue—to join and experience in person.
Other Disney fans have found solitude in social distancing by recreating their own versions of the rides and sharing them on Twitter. Some are posting their elaborate recreations on YouTube, creating seriously realistic versions of classic rides for fellow fans to enjoy.
After seeing a family recreating Splash Mountain in their backyard (with the requisite ride photo as you plummet down the mountain in your log flume, of course!) on the Chip and Co. Facebook page, the Thornock family got inspired to create their own Disney magic, making their own versions of Haunted Mansion and Pirates of the Caribbean, without even leaving their home.
For the popular Pirates attraction, the family included sword fights, skeletons sitting pretty, and Captain Jack Sparrow, of course soundtracked to the tune of "Yo Ho (A Pirate's Life for Me)." The family was sure to include all important safety information, with a "cast member" saying, "Please keep your hands, arms, feet and legs inside the boat. And watch your children. And no flash pictures. Prepare to make sail."
They then recreated the Haunted Mansion attraction, found at multiple Disney parks across the world, dreaming up an eerily accurate version of the spooky slow ride. Yes, there's a haunted room that may or may not be stretching, dancing ghosts, and plenty of "thrills" galore here.
These videos are proof that with a little imagination—and some old props found around your house—you, too, can sprinkle some pixie dust on your time spent at home until the Disney parks are back up and running again.