When I Became a Homeowner, My Dad Gave Me This Super Helpful Checklist
We independently select these products—if you buy from one of our links, we may earn a commission. All prices were accurate at the time of publishing.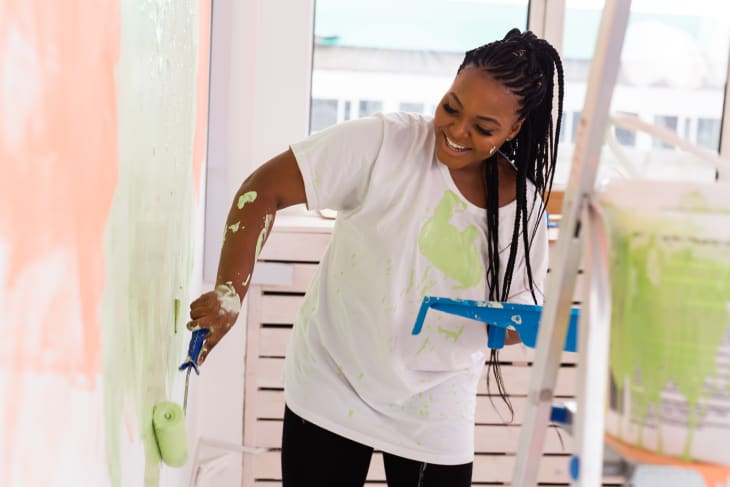 This November, my husband and I will celebrate three years as homeowners. And to be honest, we're only now beginning to feel like we truly have the hang of things.
It's really all thanks to my super awesome dad, who we're planning to treat to a special gratitude dinner on Father's Day at our place. We probably would have failed miserably at living in it if it weren't for some of the wisdom and support he gave us from the beginning.
As longtime renters who'd never had to maintain a home, we knew we needed all of the been-there-done-that advice we could get to help us start our homeownership journey on the right foot. The day we closed on the house and put our keys in the front door for the first time, my dad was standing right there with us to help celebrate the moment we'd been dreaming about for over a decade.
After a few tight hugs and a little champagne, he presented us with his list for what new homeowners should always know. Not only was it the sweetest thing ever, but it also really came in handy and helped us ensure we didn't overlook some very important details. Before retiring and living the condo life in Arizona, my dad raised us in a home that he spent most of his weekends working on so that we'd enjoy our time together there. I knew that if anyone could teach us how to love and care for our home it would be him, so we promised to follow the list to a T.
Here are just a few of the helpful things he included on the list that we found to be total game changers for us in the long run. Maybe they could be for you, too, if you're new to the home maintenance club.
"Have someone to call for everything."
When we closed on our new home, I naively assumed that all the fancy renovations inside, like the new pipes, roofing, and central air, meant we wouldn't encounter any major repairs for some time. I had my head way up in the clouds, clearly, but my dad quickly brought me back to earth.
"There is no such thing as a problem-free home," he would say to me each time I got overly excited about having stumbled upon a newly renovated home — one that we could actually afford — while house-hunting. His advice was simple: On day one, start searching for who to call to fix anything that might go wrong. We were to begin building an "in case of emergency" home repair contact list to count on that included, at a minimum, an electrician, a plumbing specialist, and someone super handy at carpentry and other home repairs.  
This exercise wouldn't be easy or fast, he warned, but he suggested we try a two-step approach to get there. Step one: Ask nearby friends and family which local professionals they highly recommend and have had positive experiences with along their journeys. Step two: When you hire someone to fix something, if you're pleased with their work and professionalism, keep the relationship strong by tipping, leaving a good review, and staying in touch.
"Don't neglect the grass."
I admit, we didn't take this gem from dad seriously enough and, to this day, we're still trying to help what's left of our grass win the war with the weeds that have now overrun our yard. My dad told us to fertilize the yard, treat it for weeds and pests seasonally, mow it with care, and water it regularly, especially in the summer. We had very nice grass on the day we moved in, so we neglected to stay on top of maintaining it. The following summer, though, the weeds started to take over. Now, we have a seasonal yard maintenance schedule we stick to, and it's helping a lot, but it's going to take at least a year or two to fix the weed-iculous situation we allowed to happen while we were focused on other things.
"Insure everything you can't afford to replace."
You can file this one under "things longtime renters never have to think about." Before moving into our house, we rented six different apartments and never had to worry about appliance failures or the cost to fix them — the landlord or building management was always just a phone call away.
Although our home did come with new kitchen appliances, we needed to find a washer and dryer, so we decided to splurge on a brand-new set. Because we were trying to not totally break the bank on the purchase, we almost skipped buying the extended warranty. But then I thought back to this gem from my dad — appliance insurance coverage could potentially save us the sudden expense of repairing or replacing one in the future.
Could we afford to replace the washer and dryer if something went terribly wrong? Not anytime soon, so getting the extra warranty was the right move for us. We also decided to insure our kitchen appliances through our local electric company for a cost that felt nominal compared to what we might have to pay if we had to suddenly replace our fridge. We spent a large portion of our savings buying a home in a seller's market, and we recognized that this made the best sense for us because we needed time to rebuild our emergency funds.
"Set reminders to check emergency detectors twice a year."
Installing smoke alarms and carbon monoxide detectors might be a no-brainer, but forgetting to maintain them can be a life or death mistake. Every time the alert pops up to remind me to check that they're working, I smile and think of my dad's list. It forced me to stop and take a moment to set up reoccurring reminders on move-in day — many that are keeping my family safe.
"Always clean like company's coming over."
This one still makes me giggle because I think my dad was honestly just preparing us for the amount of work involved in regularly cleaning an entire home versus the small apartments we were living in before. Next to this one, he wrote notes on what parts of the home to never overlook or neglect, which included things like: windowsills, baseboards, high shelves, the oven, and underneath heavy furniture. This is all good, simple and absolutely necessary advice if you truly plan to have a clean home and host company in it.
What's the best advice you received moving into your first home? I'd love to hear it (and take notes.) Let me know in the comments below.