Look Inside This Woman's "Horribly Flipped House" on TikTok
We independently select these products—if you buy from one of our links, we may earn a commission. All prices were accurate at the time of publishing.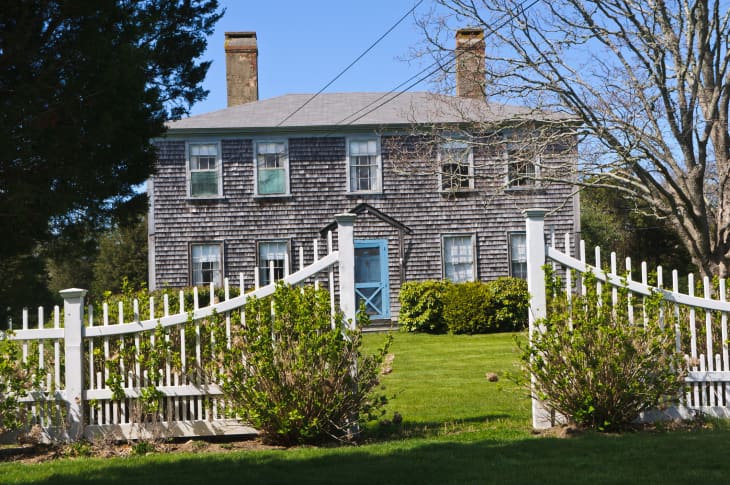 If you live in the Northeast, then you're probably well aware that Cape Cod real estate is booming. But with those skyrocketing home prices and tourists dropping millions on coastal properties comes a few less than desirable aspects… like houses that have been flipped poorly in a rush to make a profit. 
Follow Topics for more like this
Follow for more stories like this
Going by the handle @TheEdelweissHaus, a homeowner on the Cape named Kaitlin took to Tiktok to share the things she noticed in her new home after moving in.
"We just purchased this house on Cape Cod, and I keep finding things that are well, horribly flipped," Kaitlin shared. In the first video, she takes followers into the bathroom, where the vanity, which has a rounded edge, pops out into the molding. "Could we not find something with a straight edge, you wienerschnitzel?"
Later, she sits in the shower, pointing out that  "every single tile in this place is uneven."
In the second video, Kaitlin takes you to the kitchen, where a farmhouse-style beam stretches over the doorway. But as you get closer, you realize it extends about four inches past the end of the doorway.
Then, she points out the tile on the floor, which appears to be coming up. "Maybe the best part is they didn't tile correctly, the grout is coming up and we're going to have to replace these," she explains. "And they are actually moving. "
Under the kitchen cabinetry, where the wood meets the tile, she peels off a piece of wood, and points out it was applied to the wall with double-sided tape. 
"You can't tile properly? What kind of bozos did this work?" she asked the camera, holding the loose piece in her hand.
In the third video, she heads to the basement, which has an entire wall covered in barn wood. However, it's not nailed to the wall correctly, leaving an unsteady surface. A bunch of leftover barn wood resembles an oversized cowboy-vibe belt buckle nailed to the wall. 
The backyard has a few inconsistent features as well, like stones placed directly over grass, resulting in an unsteady walkway. 
If you're wondering why she would buy the property if she has so many problems with it, Kaitlin addresses that in a later video, titled "Why Did We Buy the Horribly Flipped House."
"Buying a house has a lot of reasons. But mostly this… and this… and this," she says, showing videos of her three children. "But mostly, to give our kids a safe place. A little bit of community, a little bit of feeling like they belong somewhere," she writes. Luckily as a designer, she has plenty of skills for renovating. "There's no place I feel like I can't make better with a little bit of love, a little bit of intention. You can fix anything and make it better." 
Of course, she also gets a bit more candid in the comments, when followers were a bit peeved she'd criticize her own beautiful home. "Bought virtually," she replied.