Before and After: A 'Too Much Work' House Is Transformed Into the Perfect Cozy Nest
Before and After: A 'Too Much Work' House Is Transformed Into the Perfect Cozy Nest
We
independently
select these products—if you buy from one of our links, we may earn a commission. All prices were accurate at the time of publishing.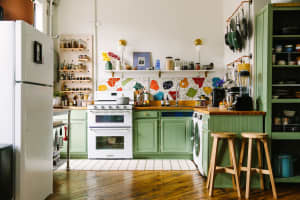 Can't-Miss House Tours Straight to Your Inbox
Keep up with our latest house tours each weekday with our House Tour of the Day newsletter
Name: Christopher Thibodeau 
Location: Central Massachusetts
Size: 900 square feet
Years Lived In: 3 years, owned
I wasn't sure if it was time to buy a house. When I skeptically met with my realtor for the first time, the plan was to look at a condo, and my current house. However, the previous evening, my mom and I walked around the exterior of my current house (since it was unoccupied) and deemed it "too much work." After hating the condo, I told my realtor I had no interest in looking at the next property. With a little coaxing, I agreed to go take a look. Upon arrival, I had not even seen the entire house before I knew it was time to put my entire financial future at risk for the yellow and teal walls, wood paneling, and Christmas-colored (red and green checkerboard) floors. I had never been a believer of "when you know, you know"—until I bought my house. 
It took about a year to get the house the way I wanted it, and then another year to get the basement refinished, and I couldn't be happier with the results. There is still so much that's "a little off" about this place, but regardless, I find it to be the perfect nest. When I was a kid, we used to vacation at a beach house that was tiny and rustic. We always went into our vacation with the mindset of the more the merrier. At the peak of our time at this house, we had air mattresses lined up in the living room and into the kitchen, and as a kid I never felt more at peace when the house was completely full to the max of friends and family. I tried to approach this house with the same mindset. Even though there isn't more than two bedrooms, I've hosted snow day sleepovers with the whole "squad," parties for fifty plus, and plenty of family holidays. Don't let the size of your house limit your possibilities, plan well, be prepared, keep the clutter to a minimum, and embrace the closeness. 
Apartment Therapy Survey:
My Style: I prefer a collected aesthetic, and I buy individual pieces that I love. Somehow when you're only collecting pieces you really like, they all fit together without much effort at all. I find a lot of inspiration in locally owned shops in seaside towns—then I try to recreate that look without spending as much. 
Inspiration: Looking at houses for sale in towns like Nantucket, Sag Harbor, and Newburyport. I am on real estate apps easily more than Facebook. 
Favorite Element: The metal cabinets in my kitchen have become my favorite element of the house. When I first walked through the house my realtor essentially told me what size dumpster I'd need for a kitchen renovation. I knew it would take some time to clean them up, repaint, and add new countertops. I couldn't be happier with the way they came out, and I saved a ton of money! 
Biggest Challenge: With only about 900 square feet, every closet and corner needs to be organized and efficient, even if it takes some planning or modifications to figure out what would work best.
Biggest Indulgence: I like to have a few different lighting sources in each room, and I use them regularly. Often times I have on multiple lights at the same time, for that layered feeling. I hate walking into a dark house, or down a dark hall, so I have a couple lights on timers. In this case my indulgence is also pretty wasteful, but I've switched most of my bulbs to LED so hopefully I'm not making that big of an impact over time!
Proudest DIY: The house already had some unique character, but adding the French doors in the kitchen (found on Craigslist from a brownstone in Boston that was being renovated), has to be my favorite DIY. 
Best Advice: I think that maintaining a house's quirky elements make a place feel like it has a personality. I decided to keep the retro cabinets, moved the vintage laundry room sink from the basement into the kitchen, and embraced the bathroom's maroon and gray tiles. Also, if you keep something that's quirky you might even find a second use—such as my metal cabinets serving as a place to magnet pictures, appointment cards, and mementos. And, guess what? Keeping it all is a lot cheaper than tearing it all out and replacing it. 
What's your best home secret? Before you spend full price on a classic piece you've been eyeing for your home, see what you can find secondhand. Oftentimes, Craigslist searches will result in more results than you'd expect! Also, if you keep your metal cabinets you can magnet all kinds of mementos inside, which doesn't clutter the fridge, and brings a big smile to my face whenever I grab a cup or plate.
Valspar — Ivory Brown
Benjamin Moore — Barren Plain 
Favorite house accent color — Benjamin Moore – Essex Green (Front door and exterior accents) 
Table — Pier 1 
Chairs — Restoration Hardware
Wicker Chairs — IKEA 
Mora Clock — Vintage (Brimfield) 
Light — Lowe's 
Candle sticks — Homegoods 
Cabinets — Vintage and original to the house. 
Countertops — IKEA 
Glass canisters — Crate and Barrel 
Toaster — Dualit 
Butcher block — IKEA 
Rug — Ballard Designs 
Bedding/pillows — Pottery Barn, Restoration Hardware, Pier 1, Brimfield Market
Light — Pottery barn 
Vintage Mirror — Ramble Market, Waltham MA
Alabaster Lamps — Vintage shops, Spring Brook Farm, Littleton MA 
Couch — IKEA 
Tripod Lamp — DIY made from my grandfather's surveying tripod
Dresser — Vintage found on the side of the road
Leather Chair & Ottoman — Pottery Barn 
Vintage street light sconces — Consignment shop
Rug — Homegoods 
Glass Candle Holders — Bloom, Sag Harbor NY 
Bed — Brimfield Market 
Bookcase — Vintage shop 
Shelf — Brimfield Market
Sailboat lamp — Canal Street Antiques, Lawrence MA 
Bedding/Pillows — Target, Homegoods 
Rug — Target 
This submission's responses have been edited for length and clarity.