College Sweethearts Share a Charming Texas Home
We
independently
select these products—if you buy from one of our links, we may earn a commission. All prices were accurate at the time of publishing.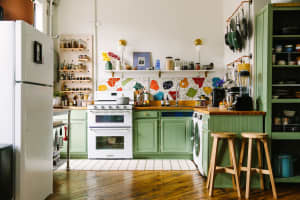 Can't-Miss House Tours Straight to Your Inbox
Keep up with our latest house tours each weekday with our House Tour of the Day newsletter
Name: Ashley Flotte
Location: Plano, Texas
I live with my college-sweetheart husband and our two sassy babies (ages three and one) in our two-story Plano, Texas home, built in 1992 in a traditional style with red brick, black shutters, and a charming front porch packed with rocking chairs. Our first viewing of it when we were house-hunting three years ago was at dusk, complete with glowy romantic light streaming through all the windows. The house felt straight out of a movie, and every scratched floorboard and 90s-liscious gold bathroom fixture whispered "home." We fought valiantly for it in a bidding war. (And lost. A couple of times.) But the stars finally aligned, and the rest, as they say, is suburban history.
I was hit with warm nostalgia from the moment I first laid eyes on our house. I'd always imagined the idyllic home – cozy, inviting – as a conglomeration of what I thought were my own memories, the pages of fine home furnishing catalogs, and maybe some holiday Folgers commercials.
But I knew the familiarity with the bones of this house ran deeper, and being that I came of age in the early nineties, I was able nail down the affection: my home-to-be was essentially the Father of the Bride house. (Anytime Father of the Bride is listed as an option on the cable guide, I can't NOT click on it. If it's on, I'm watching it. It has the same hold on me as Titanic. Or Troop Beverly Hills.)
That house! That beautiful colonial, it's such a classic. It's the aspirational Everyhome. As much as our dreams may be made of a spacious NYC loft or some sprawling farmhouse, somewhere at the heart of it all, that one's really the goal, isn't it? We want to cook Thanksgiving meals there and help kids with homework there. We feel like we grew up there. Hollywood tells us we did! It has a white picket fence, for heaven's sake.
Stately California mansion my home is not, and my decorating aesthetic is a very colorful Southern eclectic – but I'll tell you, the mouldings here, the lighting, the floors, the butcher block kitchen island…not quite the Banks residence, but it's got the essence of the Banks residence. It's Banks-esque. Even if subconsciously, is that a reason to fall in love with a home?
I'm pretty sure it's THE reason.