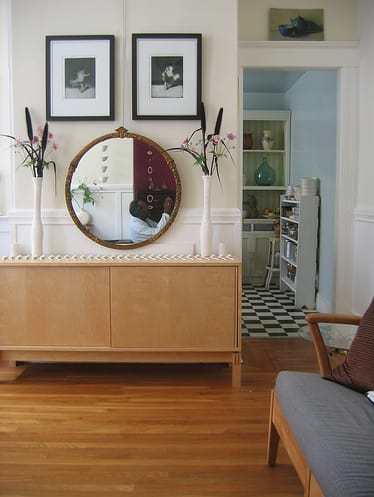 We continue to be impressed by her work. We already love her Etsy shop — especially those calendars that we're sure will sell out — and now she's giving us even more to pine for. Diana Fayt is putting together a collection for a new show at Candystore, and we want one of everything we've seen so far. "Folklore," which opens Thursday, November 8, will include phenomenal mixed media pieces that combine charcoal and gauche drawings with postage stamps, old book pages, doilies and other paper ephemera. Her canvas? Used cardboard envelopes. (We like!) She's also unveiling some fantastic new ceramics.
Despite the crazy amount of preparation that goes into a show, Diana recently took the time to give us a peek inside her home and her studio.
The hanging mobile, string of glowbowls and wall-mounted plates are Diana's handiwork. The art on the wall on the back is by Clare Goddard.
• How would you describe your decorating style?
Old world mid century modern, country cottage baroque with a Japanese twist.
Diana always purchases cups, which are displayed on the shelf, in sets of two.
• Favorite spot in your home and why?
My kitchen. I love to cook and entertain plus it houses my beloved collection of handmade cups that I have bought from fellow potter friends from over the years. My kitchen has everything I need without excess. It is the way I'd like to be in all areas of my life. For now i have only succeeded in achieving this goal in my kitchen. Plus it has a beautiful blue ceiling that feels like the sky.
• What's on your nightstand?
Always fresh cut flowers from my garden (white Japanese anemones at the moment). A small shiburi table cloth that I bought when I had a show in Japan in 2001, a ceramic pear made by Rae Dunn. A small yellow lamp, a candle, Gabriel Garcia Marquez's One Hundred Years of Solitude, a Kiki Smith monograph and Louise Bourgeois's Drawings and Observations, my sketch book and favorite drawing pencil.
On the Ikea sideboard: a collection of clay pipes that fit perfectly in a bowl by
Mardi Wood
, persimmons on plates by
Inge Roberts
, and a tall vase that Diana made. Her bed and nightstand are reflected in the mirror, an
Alameda flea market
score.
• Favorite childhood memento that's in your home?
A picnic basket that was my grandmother's. My grandmother carried this basket filled with white sheets and her most treasured possessions when she escaped from Hungary (along with my mother and the rest of our family) in 1956. The sheets were carried just in case it snowed and the family had to camouflage themselves from search planes flying overhead. We used this basket a lot when I was a child for many an Easter egg hunt. One year I even received a live bunny in it. I did not know, until very recently, that this was the only item my grandmother carried with her to her to freedom. If there was a fire it would be the first thing I'd grab. To me it is the ultimate symbol of "home."
Things collected: Round rocks that a friend gave to her; an Eiffel Tower that was a gift from
Sherry Olsen
; a little cup made by Diana; a wooden vase that from
Anthropologie
; and her cherished ceramic sculpture of a babushka'd lady that she bought in Prague.
• Favorite travel keepsake?
Oh that is a difficult question. I have traveled quite a bit and most of my most treasured items I have bought or have been given while abroad. Can I have three? First a porcelain Herend rabbit that one of my Aunties gave to me while I was living in Hungary in 1983/84. I like to call it my communist bunny. Also a ceramic sculpture of a woman (with a babushka on) that I bought when I was in Prague in 1993. And my most recent acquisition: A basket that was made from sea fans that I bought from a fabulous Bequian Artist named Jacob who lives on the island of Bequia in the Caribbean.
Here's one of the many ladies Diana is creating for her
Candystore
show. Leaning against the window is a series of three-inch tiles that she recently painted.
• Current inspiration(s) for your work?
Old world women with babushkas on.
• Favorite home/design magazines or websites?
I used to read British Elle Decor religiously but I do not buy magazines so much anymore. Now I mostly look online at design blogs like SF Girl By Bay, Design*Sponge and artists' blogs.
• Best bargain in your home and where did you get it?
My gold gilded Italian hanging lamp. I found it at the Alameda flea market a few years back. When I saw it I thought it was so ugly it was beautiful. It was a steal, I think I paid $40 for it. Everyone who visits wants the lamp.
• Biggest splurge?
My mid century modern Danish teak desk. I bought it after a break-up and was moving into my new apartment. It is the most I have ever paid for a piece of furniture, $500. (Break-ups will do that to you...)
• What's at the top of your list of things to buy next for your
home?
A new kitchen table. It has to be just the right size and shape as space is limited in my kitchen. I want it to be a light wood and very simple.
• Favorite local resources for furniture and accessories?
Alameda flea market, The Other Shop on Divisadero Street, local artists.
Although this AT feature is called "House Call," we couldn't help but include a few shots of Diana's studio space, too:
Thanks for sharing, Diana! And don't forget to check out her new show at Candystore, opening next Thursday, November 8.
Apartment Therapy supports our readers with carefully chosen product recommendations to improve life at home. You support us through our independently chosen links, many of which earn us a commission.